Location: South Africa (near Port Elizabeth)
Dates: March-October
Species
More than 40 species can be hunted within very close proximity to this lodge. Prized kudu top the list of most hunters, along with gemsbok, eland, bushbuck, nyala and more. Here you can also hunt game ranging from warthog to blue duiker, wildebeest to all four color phases of springbuck, impala to bontebuck, and that's just the beginning. The Big Five can also be hunted with this outfitter, with Cape Buffalo topping the list of most hunters.
Cost
•See list of available animals and pricing, below.
•Packages are also available, see below options:
Overview
From river bottoms to rolling plains, wooded hills to vast savannas, ocean shores to rocky cliffs, this destination is the ultimate when thinking African safari. Due to the variety of habitat, a wide-range of game can be hunted here. Spot and stalk is the norm, and seeing over 20 species a day is common in some of the concessions. Photo safaris can also be arranged, along with an extended trip to famed Cape Town. The camp is very near Grahamstown, a historic town with all the amenities.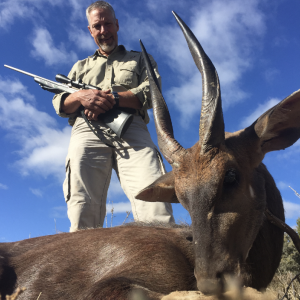 Plains Game Hunting In South Africa
We've hunted plains game in many places in South Africa, and other countries in Africa, and this is the best we've experienced. Not only is the quantity of game mind-boggling, but so is the quality.
Hunting is done on private land, and many of the species hunted are free-range. On a recent hunt here, members of our group took free-ranging East Cape kudu, bushbuck, warthog, Cape mountain zebra, blue duiker, caracal, reedbuck and more. Some of the private concessions are so vast, you don't see a fence all day long. Fences in South Africa are largely meant to keep trespassers and poachers, out.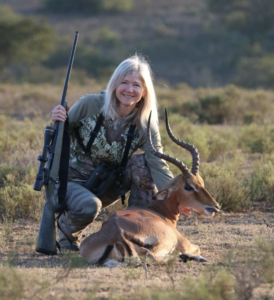 One concession, only minutes from the lodge, is over 110,000 acres. Here we saw over 25 species one day, including Cape buffalo, white rhino and elephant. We also saw some of the most impressive sable I've ever laid eyes on. Roan, gemsbuck, kudu, giraffe, blue wildebeest, golden wildebeest and coveted black impala, were also seen, along with much more.
Your morning starts at daybreak, with a light breakfast and coffee. Walking from your private suite to the main lodge is a great way to start the day, being greeted by calling birds, and seeing big game in the nearby meadows.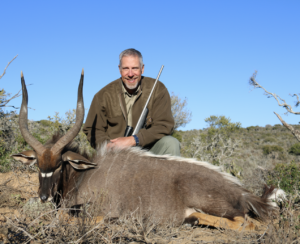 After a short drive you'll be hunting, searching for game. However, unlike with many safaris, most game is spotted while hunting on foot. The PH and his tracker know the area incredibly well, as well as the game that resides there.
Once game is spotted and assessed, a stalk is planed. Often it's just you and the PH, while the tracker returns to the rig to meet you at a designate place so you don't lose time backtracking to the vehicle. The terrain is easy to moderate to navigate, and the PH will not put you in a situation you can't get out of.
The hunting grounds are usually near the lodge, where you'll return for lunch. If you'd like to stay in the field all day, or are traveling a bit further than normal, a lunch can be packed or you can pick up something to eat at a nearby, little town.
Following the afternoon hunt, you'll head back to the lodge where you can shower, relax with hors d'oeuvres and drinks around the fire, and await an exquisite dinner. Fresh fruit and vegetable are regularly served, along with the wild game meat you harvested, if so desired.
Your private chalet features a king size bed, shower, flush toilet, electricity and WiFi. A heated blanket keeps you comfy and cozy on those cold nights. There are three chalets located near the lodge. The lodge is situated 15 minutes from historic Grahamstown, where you can get any goods you might need.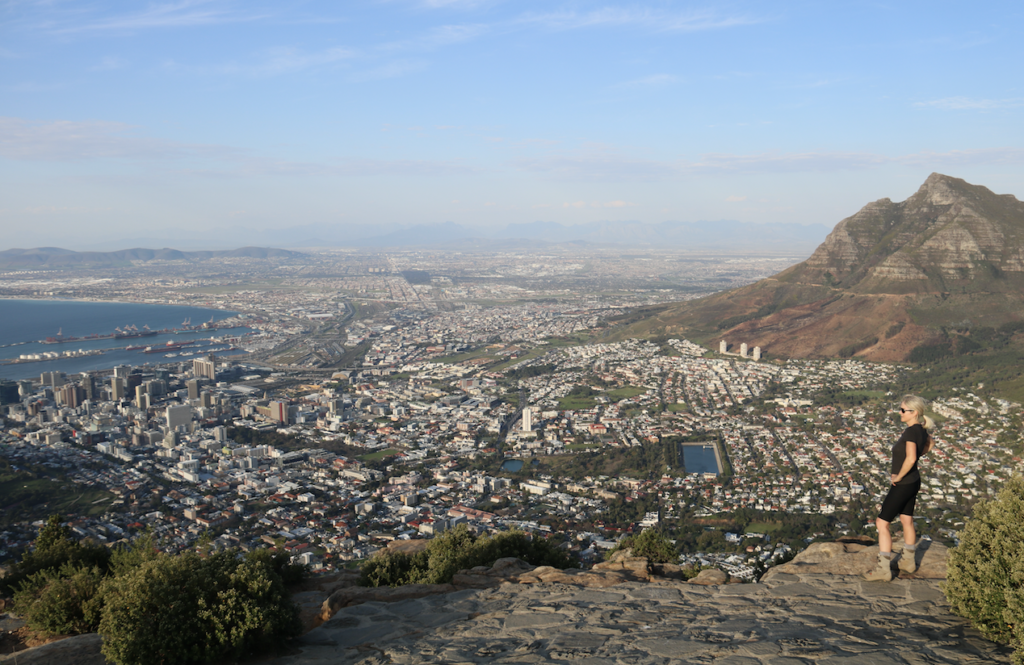 After The Hunt
One of the most attractive aspects of this safari is what it lends to travelers, after the hunt, or before, if you prefer. The lodge is very near multiple game parks, including Addo Park, one of Africa's best when it comes to viewing wild elephant, big kudu and much more. Your PH can personally escort you on this photo safari, or you can rent a car and do it on your own.
Driving from Grahamstown to Cape Town is something many hunters and their spouses, significant other, or family, desires, and it's so easy. The PH can organize and personally guide you on this trip or you can do it on your own.
The drive along South Africa's historic coast is something you won't want to miss. The roads are in excellent condition, and the driving is safe and simple. Most cars are stick shifts, with the driver's side being opposite of what it is in the U.S., but it's easy to get used to. The fact everyone drives stick shifts means they can't physically text on their phones, even though it's agains the law, and this makes it much safer feeling compared to driving in the U.S.
There are many game parks and preserves along the way to Cape Town, South Africa, along with townships, villages and sites to see. The Garden Route leads you through many historic sites, where you can embark upon hikes, elephant rides, helicopter tours and more. Fishing can also be arranged.
There is great hiking around Cape Town, with Lion's Head being one many tourists enjoy. The commanding view from this elevated vantage point gives a real sense of how vast and breathtaking this part of Africa truly is.
There is a seemingly endless variety of world cuisines in and around Cape Town. These places are easy to drive to in your rental car, or Uber rides are simple to arrange and at stunningly low fares.
Don't forget to check out Boulders Beach, where you'll get an up close encounter with African penguins. A boardwalk allows easy access to the penguins that live and nest here. This is only the beginning, and taking and extra 8-10 days to sight see, will find you busy every minute, should you desire. Flying home from Cape Town is easy for you or your travel agent to arrange.

Tag & License Costs
There are no additional hunting license or tag fees, only dipping, shipping and optional taxidermy.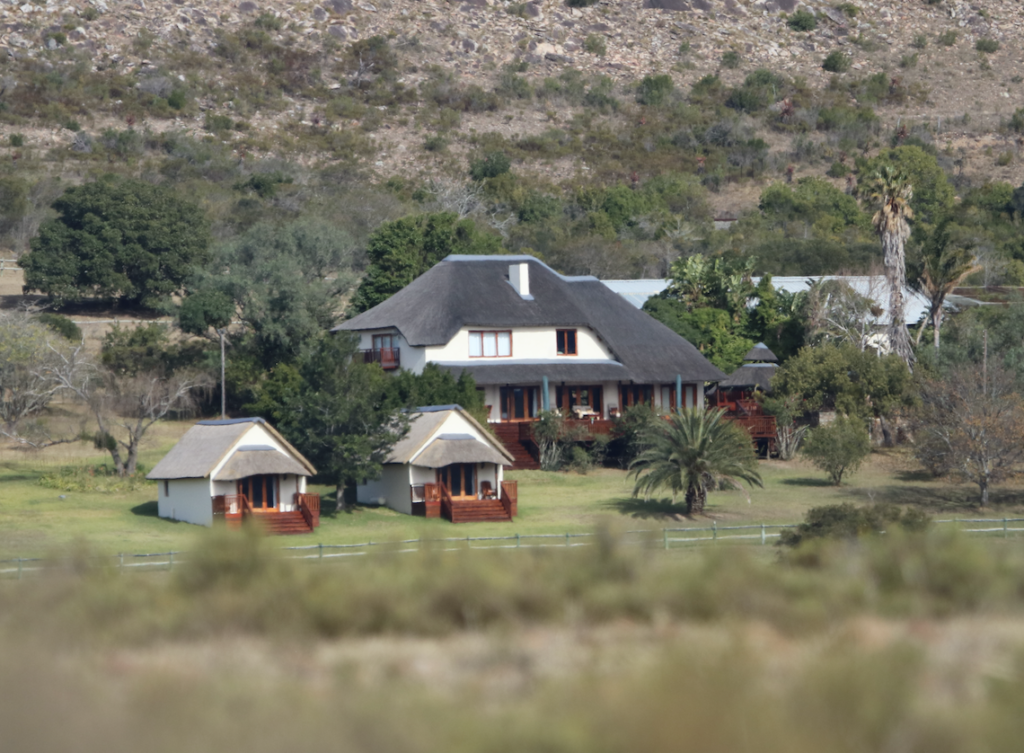 Travel Planning
Hunters fly to Johannesburg, South Africa, to OR Tambo International Airport. Here you will clear customs before heading to the domestic terminal to depart to Port Elizabeth, South Africa. At Port Elizabeth, the PH will personally meet you, help gather your gear and take you to the lodge (pictured, left), near Grahamstown, which is a 1 1/2 hour drive. If overnighting in Jo'Berg, we suggest staying at the City Lodge Hotel. This is a short, easy walk from the international terminal at which you'll arrive, as well as the domestic terminal from which you'll depart the following morning. BE CERTAIN TO CLEAR CUSTOMS BEFORE LEAVING THE INTERNATIONAL TERMINAL, as this is your port of entry. Port Elizabeth IS NOT a certified port of entry. Failure to clear customs at the international terminal can result in delayed or retained bags.
Packing List For Your South African Safari
•Laundry is done daily at the lodge, so pack light.
•Consider borrowing the PH's rifle and bringing 11 lbs. of ammo, the maximum allowed. This will make travel much easier, especially if doing sight seeing before or after your safari. Only South African Airways transports guns within South Africa.
•Hiking boots & light to mid-weight socks.
•Layered clothes: light to medium weight and a windbreaker (light rain gear, an option).
•Hooded sweatshirt.
•Light gloves & ball cap or brimmed hat, for the sun.
•Casual clothes for camp, flip flops/deck shoes.
•Sunscreen, deet wipes for ticks (optional).
•Binoculars, camera, South Africa electrical outlet adapters, small power strip.
•Sun glasses.
•Cell phone/iPad charger.
•Toiletries, medications, prescriptions in original container.
•Cash for staff tips (US is fine, in $20s or $50s).
•Two credit cards (one for backup). Be sure to contact credit card companies with travel plans prior to your departure.

Animal Listing, Daily Rates and Species Pricing
Hunting Packages
REAL DEAL
10 days, 11 nights / 10 animals: $7,650
•Kudu
•Red Hartbeest
•Springbuck
•Bushbuck
•Blue Wildebeest
•Mountain Reedbuck
•Warthog
•Impala
•Blesbuck
•Duiker
SPIRAL HORN PACKAGE
7 days, 8 nights / 4 animals: $7,950
•Kudu
•Eland
•Bushbuck
•Nyala
THE GREATER
6 days, 5 nights / 6 animals: $6,950
•Kudu
•Zebra
•Blue Wildebeest
•Black Wildebeest
•Red Hartebeest
•Gemsbuck
SPRINGBUCK SLAM
6 days, 7 nights / 4 animals: $4,450
•Copper Springbuck
•White Springbuck
•Black Springbuck
•Common Springbuck
EASTERN CAPE PACKAGE
8 days, 9 nights / 7 animals: $5,950
•Kudu
•Bushbuck
•Impala
•Blesbuck
•Springbuck
•Duiker
•Warthog
SPORTSMAN'S PACKAGE
5 days, 6 nights / 4 animals: $3,450
•Kudu
•Impala
•Blesbuck
•Common duiker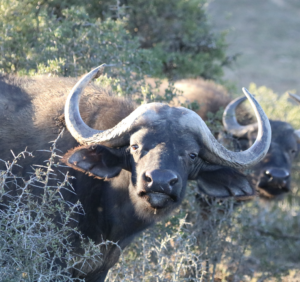 Cape Buffalo
5 days, 6 nights: $12,500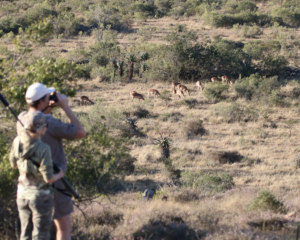 THE ROOSEVELT
Management Hunt
8 days, 9 nights / 22 animals: $6,450
•10 Impala
•7 Warthog
•3 Kudu
•2 Blesbuck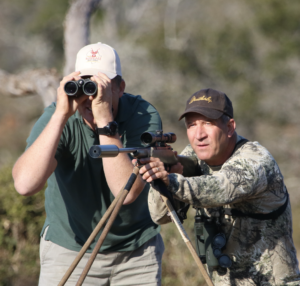 THE HEMMINGWAY
Management Hunt
•7 days, 8 nights / 16 animals: $5,850
•8 Impala
•4 Warthog
•2 Kudu
•2 Blesbuck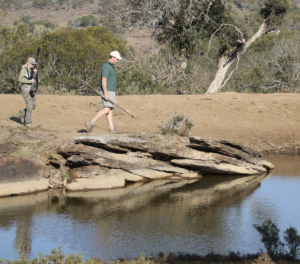 THE RUARK
Management Hunt
5 days, 6 nights / 12 animals: $3,450
•6 Impala
•4 Warthog
•2 Blesbuck
All Packages Include:
•Accommodation, meals, beverages and daily laundry service.
•Trophies as listed for package and daily rates.
•Services of professional hunter and tracker/skinner.
•Pick up and drop off at Port Elizabeth Airport.
•Field preparation of trophies and hunting licenses.
Packages do not include:
•Gratuities/tips.
•Taxidermy fees.
•Dip and pack fees.
•Extra excursions/activities.
•Rifles rental (and ammunition).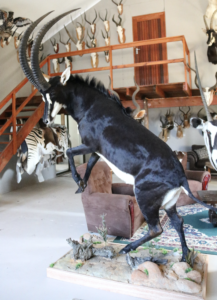 Taxidermy Options, On-Site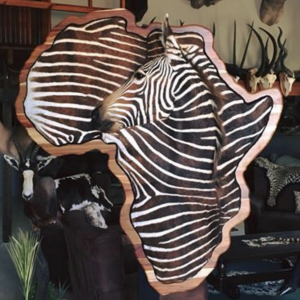 The PH is a skilled taxidermist whom is among the best we've seen in Africa. His attention to detail is precise, and his passion for transforming an animal into more than just a mount, speaks to his dedication. Man of his mounts are a true art form.
The skinners are top-notch, and the fleshing work is perfect. From tanning to taxidermy work, and the fact the turn-around time is fast, is why many hunters choose to have this PH mount their trophies for them. At the end of your safari, you can sit down with the PH and plan the details of every mount you'd like to have done.
The PH will help you secure all the proper paperwork, whether he does the taxidermy work or not. This includes CITES permits, exportation documentation, dipping and shipping records and more.