Our 2011 season started off great.  Mission #1 was to complete filming a half-dozen hunts for our Trijicon's Game Chasers TV show, the final of the series.  The three year run of this show was a blast, and getting to travel the world was a blessing I'll never take for granted.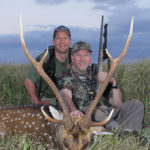 We filmed a trio of shows in Hawaii, for axis deer and mouflon sheep.  We were hunting on the secluded island of Lanai with Pat Fisher (www.hawaiisafaris.com), a place I'd never visited.  I've been fortunate to hunt many places in Hawaii, and Pat–the man to get it done with–and though they are all unique and extra special, the Lanai region simply took my breath away.  Secluded, rugged land and lots of animals made for some of the best hunting we've ever experienced on any islands.  I was joined on this hunt by Tom Munson, director or marketing for Trijicon, and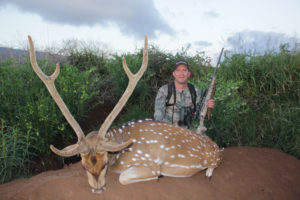 another Trijicon representative, Jeremy Vaccaro.  We took three nice axis bucks, all over 30-inches, and mine was in full velvet–a first!  Jeremy also took a nice mouflon ram, all via spot-and-stalk.
Turkey season was great, as usual.  Though it started off wet and cold, the birds were still aggressive.  Our first hunt found us high in Washington's Blue Mountains, where we chased toms in the snow at nearly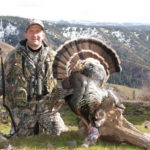 4,000-feet elevation, with outfitter Jerrod Gibbons (http://www.okanoganvalleyguideservice.com).  Temperatures in the mid-20s weren't what we counted on, but aggressive calling and the use of decoys helped fill tags.
Kazden, our 9 year old son, took his first tom on a hunt in western Oregon.  The tom sported a 10" beard and was giant…it looks bigger than Kaz' in the photos.  He even did some of his own calling, which got him excited and hooked on turkey hunting.  It was extra-special for us, that Kazden took his first spring gobbler with longtime friend and Oregon's top turkey guide, Jody Smith (www.jodysmithguideservice.com). I later took a couple toms in Oregon and Nebraska, all of which were great hunts.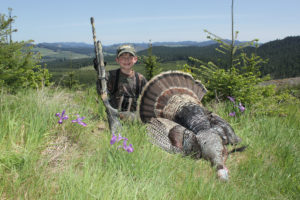 We rounded out our spring season by hunting for hogs in northern California with Nosler's Zach Waterman.  Zach and I each shot nice, great-eating boars, both of which were taken spot-and-stalk.  I've taken several good hogs in this area, but this could have been the best hunt ever.  We were with Parrey Cremeans, good friend and owner of www.justforhunting.com.  We'll be back to this place!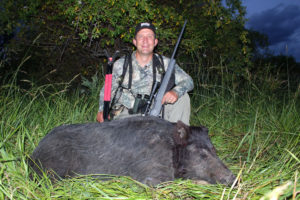 Our fall season found us on four elk hunts, and launched us into the production business for the first time.  Our new show, Trijicon's The Hunt, premiers in June on the Sportsman Channel.  This new, 13 episode series is one we're producing ourselves and will air in the 3rd and 4th quarters each year.  I'm glad to be cutting back on the episodes being filmed, as it allows me more time with the family.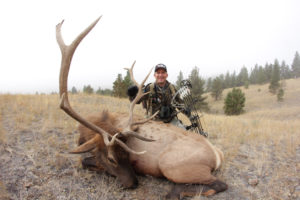 We had three great elk hunts, the first being a bowhunt for Rocky Mountain elk in Montana.  I hunted new land and discovered I was more on a wintering ground than a place where elk spend the final days of the hot summer months.  This made hunting tough, but I was able to call a bull to within 9 yards!  We got some great footage, then ended up arrowing him at just over 20 yards.  I skinned him out for a lifesize mount and you can see him displayed in the new Cabela's store in Tulatlip, WA.
Two high-country elk hunts followed, one on horseback in Wyoming's pristine wilderness region, the other atop the historical Joseph Plains of north-central Idaho.  The Wyoming hunt could be the most rugged elk hunt of my life, but it paid-off and the horses were exceptional, thanks to good friend Justin Jarrett.  Justin is one of Woming's top sheep guides, and knows his elk incredibly well.  While this was a buddy-hunt, I couldn't have done it without Justin, the best horse-man I've ever had the honor of hunting with (http://www.wapitiridgeoutfitters.com).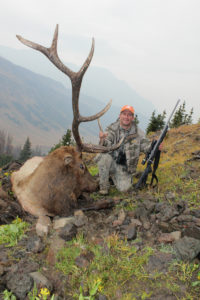 It was an honor hunting the land where Jack O'Conner had taken bighorn sheep in years past.  At over 10,000-feet we found a bull, one we dubbed The Dagger Bull.  A long stalk led to a steep, uphill shot, and we had no choice but to bone out the animal, on the sport.  The single tine on the bull's one side measured 29 1/2" long!  Had he carried a full rack, he'd have been a 330-inch class bull.
In Idaho we had more bulls bugling than I'd ever witnessed in a general rifle season.  We were back with Matt Craig of www.bouldercreekoutfitters.com.  Though we called in some good bulls, we hoped for something bigger.  Finally, in the closing minutes, a nice bull came out of the timber, and I connected on the longest shot of the season, 410 yards across a giant canyon.  The Nosler .325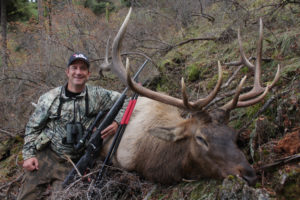 WSM topped with Trijicon's 3×9 scope set in a Bog Pod tripod offered steady, accurate shooting results.
With our Idaho elk tag filled, it was time to chase some high country whitetails, near White Bird.  We'd seen a giant buck, one we estimated to be pushing 170".  A rancher later found his sheds that winter…he scored 169".  Though we didn't get the big buck, we got a nice buck, one that carried 142" of antler.  I'll be back next season for the big buck, one we dubbed "the Box Buck!"

Though we drew two blanks chasing mule deer in South Dakota and Montana, we did connect in Wyoming and Washington.  The Wyoming hunt found us in the north-central part of the state in the middle of October, with a man we'd hunted with before, and will be back again, Jon Ball (www.jonsoutdoors.com).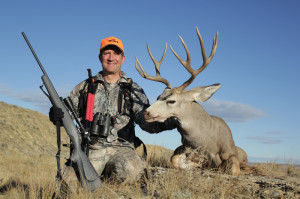 The weather was warm, meaning our best bet was catching bucks in shaded draws, moving from sage brush-studded canyons to feeding areas in the evening, or back into the draws in the morning.  Finding a trio of bachelor bucks one evening, a lengthy stalk ensued, getting us within 100 yards of the biggest buck.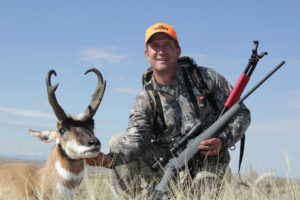 When he emerged from the ravine, on the opposite hillside, the Nosler .260 found the mark and the gorgeous 4×5 was ours.  I also took a dandy pronghorn on this hunt, as did ace editor of The Hunt, Dustin Anderson.  We also arranged a hunt for five international representatives for Trijicon, and they all took their first pronghorns.  This is an awesome place!
Thanksgiving found us in north-central Washington, bowhunting mule deer near Omak, with Jerrod Gibbons (www.okanoganvalleyguideservice.com) .  The migration was on…and so was the rut.  Spot-and-stalk and sitting in blinds was the routine, and never have I seen so many muleys, up close.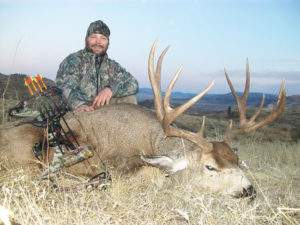 I spent the better part of the day stalking a monster buck, which my buddy, Jerrod, later arrowed after all his clients had tagged out.  That buck was just shy of 190".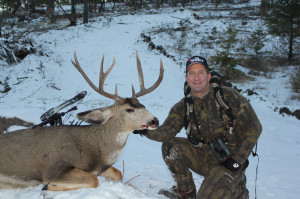 I settled for a heavy 3×4 on a great hunt.  I can't wait to go back to this place next year, but this time I hope to have the family along.
The highlight of the season was Kazden taking his first deer, ever, a Columbia blacktail in our home state of Oregon.  We hunted the famed Big K Guest Ranch, a place the family has grown to love (http://www.bigkoutfitters.com/). We saw several bucks, and Kazden made a great stalk on a nice forked-horn.  The buck was bedded, and we were able to use the broken terrain and cover to get within 35 yards.  It took an eternity for the buck to stand, which we eventually made happen with grunts from our Point Blank Calls, Pile Driver.  Kaz' was ready and made a perfect, double-lung shot.  He helped gut, skin, butcher and package that buck and the family gobbled it up in short order.  "Dad, that was the best eating deer we've ever had, right?" Kaz' asked, every time we had it for dinner…No question, yes it was!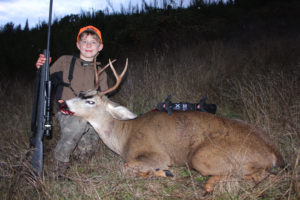 With so many writing projects and upcoming speaking engagements, we didn't get to spend the time fishing that we'd hoped.  But we did have a few great winter steelheading days in WA and OR, as well as some nice fall trout fishing days and some good days on the Columbia River with our friends from G.Loomis and Shimano.
We're excited about the 2012 season, and are already making plans in to the 2014 season.  As for the hunting action, watch for it on Trijicon's The Hunt, premiering on the Sportsman Channel, in July.