Location
North Island, New Zealand
South Island, New Zealand
Dates
March through August
*Our red stag hunts are sold out for 2017…we are now booking for 2018.
Species
Red stag, fallow deer, sika deer, sambar, rusa deer, tahr, chamois, Arapawa ram, pigs.
Costs
Daily Rates Per Hunter (in addition to trophy fees, below)
•$550 1×1
•$400 1×2
•Non-Hunting Observer $150
•A 50% deposit will hold your place, the balance can be paid with credit card at the end of your hunt.
*Package rates, see below.
**Trophy fees, see below.
Overview
Some of the world's best hunting lies in New Zealand. This outfitter hunts both the North and South islands. While deer hunts take place on easy to moderate land, hunts for mountain-dwelling big game is in rugged, demanding landscapes. The better shape you're in for the mountain hunts, the better the chances of success. Here's a video clip of roaring red stags in action!
Here's what to expect on a typical day of hunting.
Hunting New Zealand
We've filmed multiple TV shows with this outfitter, and there's a reason we put our name behind him and his operation. On the North Island, he has the best red stag, sika and fallow deer hunting we've experienced. Easy to moderate terrain consisting of rolling hills and gentle, brushy ravines, makes the perfect deer habitat. Whether you're an archer or rifle hunter, this hunt is tops.
Red stag are the most prized big game in New Zealand, and top the wish-list of many hunters around the world. Hunting the red stag roar–the rut–is something that must be experienced in order to be fully appreciated. It's one of big game hunting's greatest thrills. If you like hunting elk, you'll love chasing red stags in the hills.
Spot and stalk hunting amid broken terrain and plenty of cover will get you close to the animals. Some archers find success from treestands, too.
If you're a serious deer hunter, the North Island offers some of the world's best opportunities for prized sambar, sika and rusa deer, species that are not easy to find all in one place. These elusive deer are cunning, tough and challenging to hunt.
The red stag rut usually begins in early- to mid-March. Hunting the red stag roar is simply an awesome experience! Fallow and sika deer start rutting in early April, which is a great time for a multi-species hunt as the reds are still roaring.
On the South Island, red stag, tahr and chamois are the primary big game animal. When it comes to tahr and chamois, be in the best physical and mental shape possible. Hunts for these two mountain-dwelling animals can be had in very demanding, free-range mountains, or on less taxing estate properties.
What we really love about this operation is it's small, run by a husband and wife team. The outfitter is a fifth generation professional hunter, and with more than 35 years experience, knows the animals and the terrain extremely well. He's personally guided hundreds of hunters from around the world to trophies of a lifetime.
I've hunted many places in New Zealand, and my wife and I have traveled around both islands. The Kiwis (local New Zealanders) are among the most kind-hearted, generous people you'll meet.
This outfitter and his wife are no exception. Their warm spirits, hard work and positive attitudes will find you arriving as strangers, departing as friends. This is an ideal destination to combine with a family vacation on the front or back end of your hunt.
Lodging on the North Island is in an old, comfy homestead, where you'll enjoy home-cooked meals and New Zealand's famous beverages. On the South Island you'll stay in comfortable lodges, cabins or homesteads, depending on what animals you'll be hunting.
Your outfitter will handle all the caping chores and arrange for the shipping home of your trophies.
This is one of the most thrilling hunting experiences in the world, something we wish everyone could enjoy. Not only will the hospitality of this outfitter make you want to come back, so will the breathtaking scenery and unique animals.
Trophy Fees
Package Hunts
•4 day Red Stag up to 360" SCI, $6,600 per hunter, 2 hunter minimum.
•5 day Red Stag up to 360" SCI and trophy Fallow Deer, $10,000 per hunter, 2 hunter  minimum.
The following trophy fees are in addition to the daily rates, above.
Red Stag=
•Up to 300" SCI score = $2,000
•301"-320" SCI score = $3,000
•321"-339"" SCI score = $4,000
•340"-359" SCI score = $5,000
•360"-379" SCI score = $7,500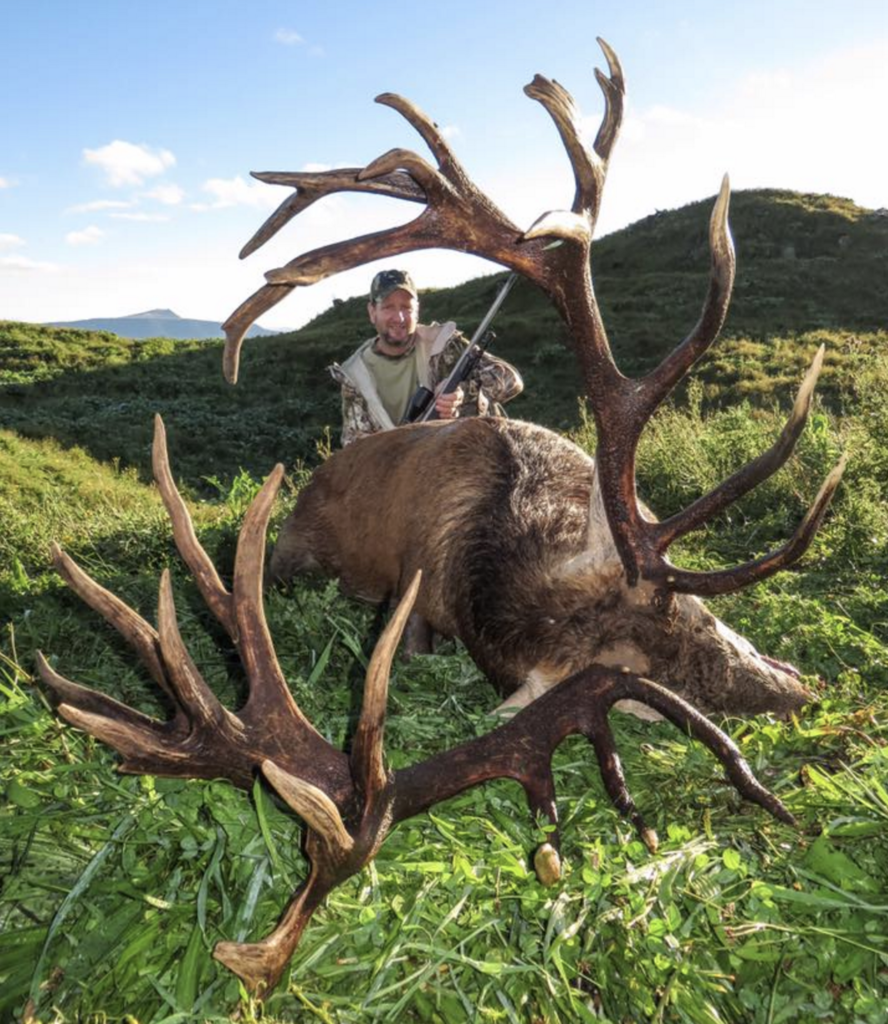 •380"-399" SCI score = $10,000
•400"-420" SCI score = Price On Request
•421-plus inches SCI score = Price On Request
Sika Deer = $4,500
Fallow Deer = $3,000
Rusa Deer = $4,000
Sambar = $5,000
Arapawa Ram = $700
Tahr = $4,500
Chamois = $4,000
Elk up to 500" = Price On Request
Wild Pigs with dogs = $1,000/day, all inclusive
Shipping Your Trophies Home
The costs of preparing, shipping and importing your cape and antlers are your responsibility. The outfitter will help initiate this process, then it's up to you to finalize and coordinate final importation. Recently we're hearing from clients in the U.S. that the costs are under $1,000, which includes the expeditor's costs and certification. The outfitter works closely with New Zealand Expediters. The contact there is Johnny Mitchell, www.nzexpediters.co.nz
Travel Planning
Hunters will fly into Auckland, New Zealand, then hop on a small plane for a short flight to Taupo when hunting on the North Island. Taupo is very near where you'll be hunting. Here you'll be met by your outfitter and taken to camp.
When hunting on the South Island, you'll fly into Christchurch. There are U.S. flights that go straight to Christchurch.
We can connect you with a travel agency to help secure the best deals on Air New Zealand.
Traveling to New Zealand is easy and safe. Here's a video that will walk you through all you need to know.

The Roar!