Location: Egegik River, Alaska
(plus, fly-out trips to remote destinations)
Dates
July 28-August 3, 2018 (sockeye also available at this time)
August 25-Aug.31, 2018
Species
Coho Salmon, Chum Salmon, Pink Salmon, Arctic Char
Fly-outs for these species as well as Arctic Grayling and Rainbow Trout
Cost
$2,800 per person (not including round-trip airfare, license/stamp).
Overview
The Egegik River is one of Alaska's best coho streams. Chum salmon in excess of 20 pounds are regularly caught, as are Arctic Char up to eight pounds or more. It's a gentle, very easy river to wade-fish. Bushplane fly-outs are affordable and easy to arrange.
Fishing On Alaska's Egegik River
The first time I fished this river, with the only outfitter based on the Egegik at the time, I was hosting a TV show for the Outdoor Channel. We filmed three shows in two days. In one of those episodes I stood on a single rock, showed four different ways to fish for silver salmon, and landed and released over 70 fish. My last trip to this river, 10 years later, was just as good, if not better.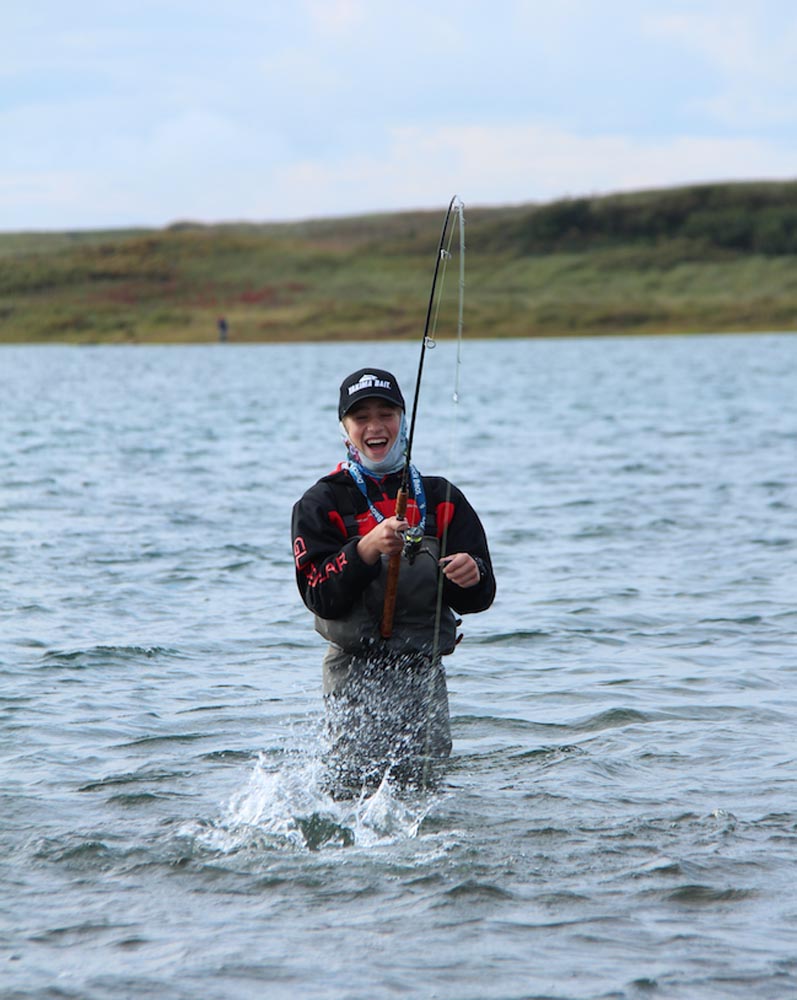 The Egegik River flows out of Becharof Lake, Alaska's second largest lake. It's a slow-flowing river consisting of a gravel bottom. This makes for some of the easiest wade-fishing you'll ever find.
Whether you're an expert flyfisherman or handling a fly rod for the first time, you will catch fish. Gear anglers will find success fishing with lures, jigs, casting plugs, drifting eggs and using bobber and eggs.
The topwater action for silver salmon on poppers is exciting and productive. Having dozens of takes a day on poppers is common. For gear anglers, catching and releasing over 50 silvers a day is very doable. On even numbered years, pink salmon arrive in huge numbers, and catching 100 of them a day is common.
When conditions are right, you can motor into the headwaters of the Egegik River, where it flows from Becharof Lake. Here you can wade along both the northern and southern shores, casting for coho in one of the most beautiful settings in Alaska. You might also have the opportunity to fish the lake's outlet from a boat, where you'll be able to count silver dollar sized rocks 50-feet deep, and cast for schools of coho gathering by the hundreds.
In the upper part of the river, wade-fishing around the islands for Arctic Char is very productive. Here, floating beads and working flesh fly imitations can find you battling gorgeous char measured in pounds, not inches.
Fly-outs by float plane or wheel plane can also be arranged to some of Alaska's most remote, prized streams. Bear viewing trips are also an option.
With a daily limit of five coho, you're assured of bringing home plenty of great eating meat. Most anglers bring home two, 50-pound boxes of fish.
Fish are filleted and frozen in camp. Due to lack of space in the bush planes, boxes of fish are flown into King Salmon when a plane is passing by. There is a $20 storage fee per box for this service in King Salmon.
The Camp
Fish camp on the Egegik River consists of a series of weatherport style tents, with a few cabins. The camp is perched atop a hill overlooking the beautiful tundra to the West, and the breathtaking Egegik River to the East. From here it's not uncommon to see brown bear, wolves, ptarmigan and if your lucky, an active volcano. You'll sleep 2-4 people per tent, and beds and all bedding, including pillows, are provided. If the nights are cool, heaters are available for inside your tent. There are flush toilets, hot showers and a sauna (towels are provided). Internet service is limited, but sometimes available in the evenings. There is a room to hang your waders, boots and rain jacket at the end of the day, so as to help keep your tent clean. Each morning you'll eat breakfast inside the main room, where everyone gathers for coffee, then be on the river at daylight. A shore lunch of fresh-caught coho is usually on the menu, whipped-up by Ray, the longtime cook. These great lunches are prepared differently, every day. By 4:00 in the afternoon, folks are usually ready to head back to the main camp for a shower, sauna, appetizers and happy hour. A big dinner follows, with something tasty and different, every night.

License & Stamp Costs
•Nonresident 3 day sport fishing license, $45.00
•Nonresident 7 day sport fishing license, $70.00
•Bush plane flight in and out of camp, ~$350-$500 pp

Travel Planning
Fly on commercial jet directly to King Salmon, Alaska. From there, hop on a pre-arranged bush plane for a 35 minute flight to camp. You'll be met at the bush plane and all your gear hauled to camp. From there, fishing is only minutes away. Cost of the RT bushplane flight is about $400. Cost of getting a 50 lb. box of fish home is $20 per box from camp to King Salmon, plus commercial airlines fees.
GEAR LIST FOR THIS TRIP
Personal Items
•Breathable Waders & Wading Boots (no felt soles)     •Wading/Rain Jacket    •2 Base Layers
•Hooded Sweatshirt    •1 Pair of Pants•1 Pair Warm Sweatpants for waders and around camp
•3 Underwear & Socks    •Stocking Hat    •Ball Cap    •Ear Plugs    •Thin Gloves
•2 Long Sleeve Shirts    •Sunglasses    •Lip Balm    •Camp Shoes    •Toiletries     •Medicines
•Camera (battery chargers) •Small Waterproof Bag    •Phone/Charger
•Cash For Tips •*2 medium sized duffle bags

Fishing Gear
Note: The lodge supplies all spinning rods, gear and tackle at no cost. If you want to bring your own gear to fish multiple ways, following are some suggestions:
•**Rod case
•3 spinning rods 8'-9'6" with a line rating of 8-17 lb. test.
•2 spinning reels spooled 12 pound test line.
•1 spinning reel spooled with 20-30 pound braided line that floats.
•1 bait casting rod with a line rating of 8-17 lb. test (optional).
•1 bait casting reel spooled with 12 pound test line (optional).
•1-2 dozen lures in the 1/2-ounce to 3/4-ounce range with pink and chartreuse being the best colors. Good coho spinners are Flash-Glo Casting Spinners, Rooster Tails, Blue Fox Vibrax, Pixee, Mepps Flying C, Mepps Aglia and other similar styles/brands.
•One package of 4" pink rubber worms.
•1 dozen Snap swivels    •Hook File    •Nail Clippers (for cutting line)
•Small Pliers (needle nose that cut line and lead)
Eggs can be fished on the Egegik River, so if you're an egg fisherman, bring:
•24 pre-tied leaders on 2/0-3/0 Octopus style hooks on 15 lb. test, 24"-36" long.
•Extra egg hooks (2/0 or 3/0 Octopus style).
•1 spool of 12 lb. test line (150 yards, in case of loss, tangle or leaders).
•Fishing yarn (pink, orange, green).
•10, Lil' Corkies, (pinks, chartreuse, size 10).
•6, Spin-N-Glos, (pink, chartreuse, size 8 or 10)
•1 dozen Barrel swivels (size 7).
•Sinkers (slinky, pencil lead (hollow core), even larger split-shots are great). You don't need much lead as the river is shallow with few hangups.
•A bottle of egg cure and a dozen sealable bags (optional).

This is an excellent river to Jig Fish, so bring:
•3 floats/bobbers, 1/8-ounce.
•6 bobber stops & 3mm beads
•A dozen 1/8-ounce to 1/4-ounce jigs (in various shades of pink with a couple chartreuse).
•6 twitching jigs, 1/2-ounce.

Flyfishing Gear
•7 /8 or 8/9 weight fly rod.
•Reel with good drag spooled with floating line.
•10-12 pound tippet/leader.
•Assortment of Teeny Nymph Egg-Sucking Leech Flies, size 4 & 6, in Hot Pink, Chili Red & Flame Orange
•1 pack of Cabela's 12-Piece Coho Assortment flies and poppers.
•Leech, Shrimp, and Streamers in size 2, 4.
•3 Popperwogs, size 2, pink.
•3 Hammerhead Hair Wogs, size 2, pink.
•3 Polywog (foam-top), size 2.
*When traveling on commercial airlines to King Salmon, you'll likely have one large suitcase with your gear. Be sure to bring two (2) medium sized duffle bags, because when you get to the bushplane office in King Salmon, you will re-pack all your gear into the two duffle bags, and leave your bulky suitcase behind. You will pick up the large suitcase, and repack it, on the return flight home. It's much easier for bushplanes to pack multiple smaller bags rather than large, bulky ones.
The outfitter supplies insulated fish boxes at no cost for shipping fish home. Each box holds 50 pounds of salmon. These are excellent boxes that you can re-use. Some people bring coolers to take fish home in, and if you choose to go that route, they will be left at the bushplane office on your way into camp, and filled with fish on your way home. Due to the weight of fish people take home and the limited amount of space on bushplanes, your fish will be flown into King Salmon every day or two, where it will be frozen. There is about a $20 per box fee to store and deliver your boxed fish to the commercial airlines ticket counter in King Salmon which is paid to the bushplane service who handles this).
**For fishing rods, you can carry on 4-piece rods, or put them in a checked bag. If bringing 2-piece rods, get a 6" to 8" diameter section of PVC pipe (the tube should be about 1-foot longer than the longest rods you'll be bringing, when broken down). Get two caps for the PVC tube. Glue one cap on to one end the PVC tube. Drill a hole into the end of the other cap to prevent airlock. This cap will be taped to the tube for travel. Duck tape a piece of rope to the tube for a handle, and you're set. Slip each rod into a cloth case, then fit them together and slide them all into the tube at the same time. There will be extra room for small items, even clothes, to fill in the gaps inside the tube. This way you have only one checked bag for all your rods.