Location: Saint Paul Island, Alaska
Dates: 2018-19 Season: TBA
Species
King Eider, Harlequin, Longtail Duck, Scoters with the occasional Goldeneye, Bufflehead, Aleutian Greenwing Teal
Cost
$5,000 per hunter
Overview
Hunting is done in the open ocean from specialized boats, over decoys. When storms hit and hunters can't get out, hunting is done from points of land around the island. This is a high-end, very specialized hunt for the pinnacle of the duck hunting world. Think of it as a trophy hunt for birds.
King Eider Hunting On Saint Paul, Island
The Holy Grail of the waterfowl world, the king eider, is only hunted in a few places by sporthunters, and Saint Paul Island is the best of the best. This outfitter has been operating here for over a decade, and teamed with a top-rate guide most of those years, this duo has this hunt dialed in.
This is one of the most remote waterfowl hunts in the world, and the conditions can be harsh and challenging. Safety and comfort is a top priority with this outfitter, ensuring your time on the water is enjoyable and productive.
Decoys are strung behind the sturdy boat, which free-floats outside the bay of Saint Paul. Flagging is done to add more visual appeal, and when king eiders commit to the decoys, there's nothing stopping them.
King eiders, as well as scoter, are tough to bring down, so have confidence in your gun and loads. A payload of tight patterning #4s moving at least 1,300 fps is tough to beat. Be sure and pattern your gun prior to the hunt so you know exactly what it can do at 30, 40 and 50 yards.
This is usually one of the last birds avid waterfowl hunters have left to take to complete their North American collection. It's not a cheap hunt, and with only a four bird limit on kings for nonresident hunters, it's not for everyone. The guides will work hard to select mature birds for the hunters. Expect shot opportunities at long tail ducks as well as prized harlequins during your hunt.
If time permits, expect a little tour of historic Saint Paul Island. Taking time to see the village, a local museum, and commercial crab boats coming in to port, greatly add to this premium sea duck hunting experience.
Your prized birds will be well taken care of, wrapped, frozen and properly labeled for shipment home.
King Eider hunts on Saint Paul Island run from late December through most of January. This time of year there's about six hours of daylight, with action starting before sunup, around 10:00 a.m. Accommodations are spacious and very comfortable, and the food very good. If your timing is right and commercial crab boats are in, the outfitter can help you secure boxes of crab at a great rate to take home as additional baggage.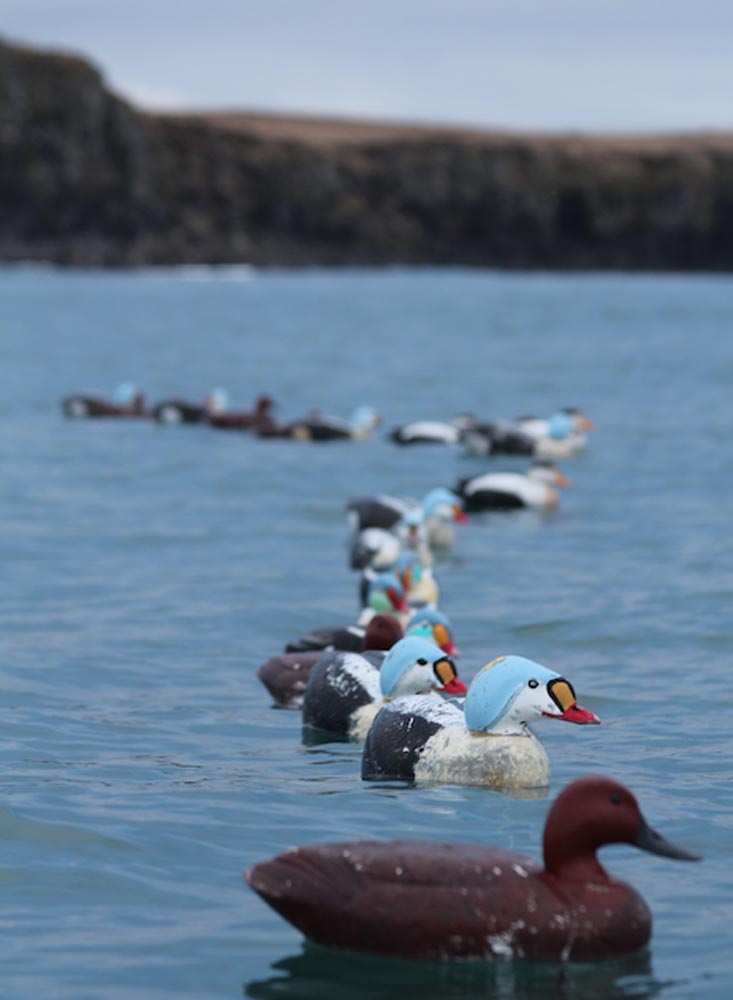 Tag & License Costs
•$25.00 nonresident hunting license
•$10.00 Alaska duck stamp
•$25.00 Federal duck stamp
Travel Planning
Hunters will fly on commercial airline directly to Saint Paul Island, where you'll be met by the outfitter. Pen Air flies from Anchorage to Saint Paul on Wed., Fri. and Sunday. At the end of the hunt, you and your bags will be taken to the airport for the flight home. Hunters must know this is as remote as Alaska gets, and weather can sometimes cause a change in flight plans, so be patient and enjoy the journey.