Location

Australia (North & East parts of country)
Dates
February-August in Queensland for multiple deer species.
May-October in Northern Territory buffalo, banteng, rusa deer, scrub bull, pigs.
Species
Northern Territory: Water Buffalo, Banteng, Wild Hog
Queensland: Red Stag, Rusa Deer, Fallow Deer, Axis Deer
Cost for 2017 & 2018
Daily Rates Per Hunter
$550 1×1
$400 2×2
Non-Hunting Observer $200
*Trophy Fees, see below.
**Package Rates & Specials, see below.
Overview
In Australia's Northern Territory, hunting for water buffalo and banteng is by spot and stalk in very flat terrain. The land is easy to negotiate, with mosquitos in swamps and heat being your biggest challenges to overcome. In the eastern part of the country, where deer hunting takes place, hills are easy to moderate to negotiate. Estate hunts can be arranged, as can free-range hunts in more demanding terrain.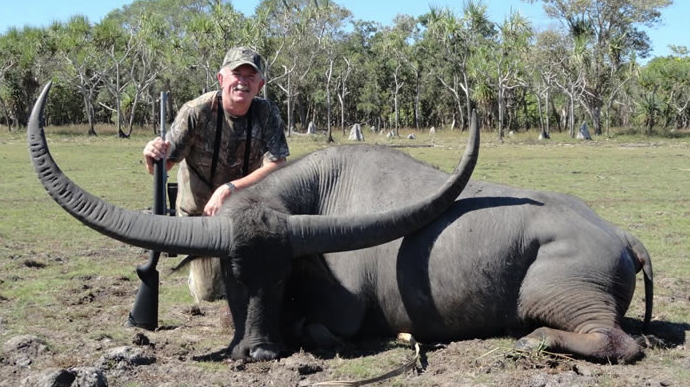 Hunting Australia
This outfitter offers multiple hunting options in two regions of Australia. In the Northern Territory, hunts are based out of Darwin. This is the water buffalo and banteng capital of the world. Wild hogs can also be hunted and fishing can be arranged.
Hunting the paperbark forests and surrounding swamps in the Northern Territory is one of the most unique adventures in the world. Seeing multiple buffalo a day is the norm, with success on big bulls being 100% over the years.
On my last trip, I took a record class water buffalo bull with my bow, and two buddies each took big bulls with their rifles. This outfitter has taken top five in the world water buffalo and banteng and knows the land and the hunting, incredibly well. We saw multiple potential world record water buffalo on my hunt, but they didn't leave the swamp and we could not access them on foot. One evening I had what we figured would have been a world record bull prance by inside 40 yards, but never slowed for a shot with my bow. Seeing buffalo with horns spanning 9-feet from tip to tip will leave you in awe!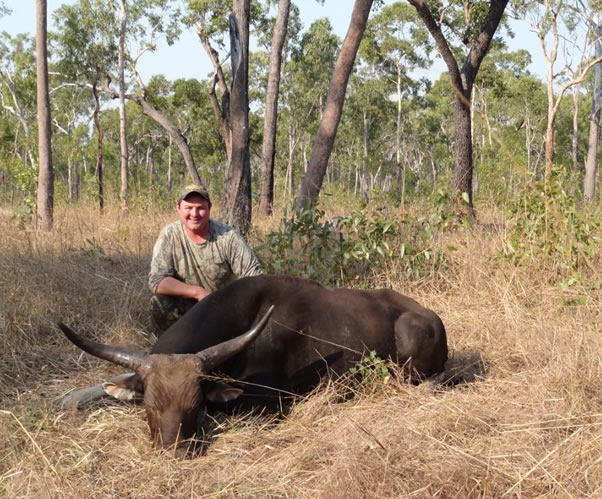 Buffalo often end up being taken in short, grassy plains. Banteng are normally found in flatland forests with thick scrub. The better shape you're in, the more ground you can cover, the greater the chance of getting a prized bull. Make sure your feet are in good condition, for even though the terrain is easy, you can log miles a day.

Deer hunts are based out of Queensland, Australia, with Brisbane serving as the hub. The hunting here is much like hunting the Coast Range of the Pacific Northwest, though not as deep of canyons. The habitat is brushy, and walking and glassing to locate game, then commencing a stalk, is the norm. There are some exceptional red stags here, and the trophy fees are very reasonable compared to red stag hunting in other parts of the word. Rusa deer and fallow deer are also available, and sometimes, axis deer can be found. Free range rusa deer in the 150" class are taken regularly.
Estate hunts for sambar, sika, fallow deer, blackbuck antelope, hog deer, axis deer and Moluccan rusa deer are also available. Wild boar, goat and dingo can also be hunted in various places, often in combination with other big game hunts.
It's common for hunters to combine hunts in Queensland for deer with hunts in the Northern Territory for water buffalo and banteng. Spending a few days hunting deer, first, then heading north for a week of buffalo and/or banteng hunting is a good way to see the country and experience what hunting in Australia is all about.
The outfitter will prepare all your trophies and arrange for them to be shipped home. Wi-Fi is free at the lodge.
World-class fresh and saltwater fishing charters that can be arranged with your hunts. Prices start at $350 per person.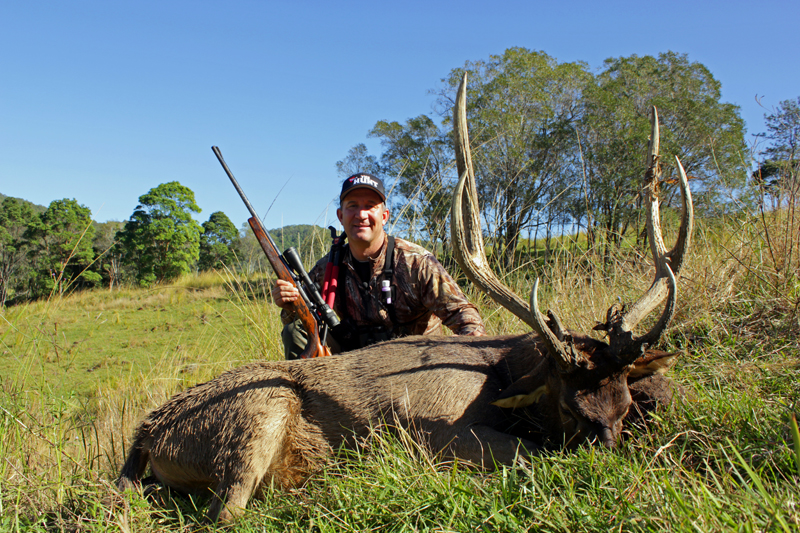 New Concession Special (2018)!
*Prices include daily rates…over 120,000 buffalo roam this land.
2×1 Water Buffalo hunt $8,900 p/p
2nd trophy Water Buffalo $3,500
3rd trophy Water Buffao $ 2,800
Water Buffalo cow  $1,500
Scrub Bull $2,750, in conjunction with Water Buffalo hunt.
Pigs are free, and the barramundi fishing is exceptional at this location.
Dangerous Game Hunts (free range) & Trophy Fees (excludes day rates):  The 
Water Buffalo 1×1 = $8,500
Water Buffalo 2×2 = $7,500
Trophy Water Buffalo over 110" = SCI Price On Request
Top 10 SCI Water Buffalo = Price On Request                                   
Banteng  1×1 = $14,000
Banteng 2×1 = $12,500
Water Buffalo/Banteng Combo' 1X1  = $21,000
Water Buffalo/Banteng Combo' 2X2 = $20,000                                                                    
Scrub Bull  1×1 = $2,000
Red Stag 1×1 = $2,000
Javan Rusa Deer 1×1 = $4,500
Estate Hunt Opportunities:
Red Stag
300-340 inches SCI = $3,500
341-370 inches SCI = $5,000
371-399 inches SCI = $7,000
400-420 inches SCI = $9,500
421-inches or bigger = Price On Request
Sambar 1×1 = $6,600
Javan Rusa Deer Up to 145 inches SCI = $3,500
                                      146-160 inches SCI $4,500
161 inches or bigger = Price On Request
Moluccan Rusa Deer 1×1 = $4,000
Sika Deer 30-35 inches SCI = $5,000
               36-inches or bigger = $8,000
Fallow Deer 1×1 = $2,000+
Blackbuck Antelope 1×1 = $4,500
Hog Deer 1×1 = $7,000                                         
Axis Deer 1×1 = $4,000
Wild Goat 1×1 = $1,000
Wild Boar 1×1 = $500
Dingo 1×1 = $500
•CUSTOM PRICED HUNTING PACKAGES ARRANGED ON ALL HUNTS•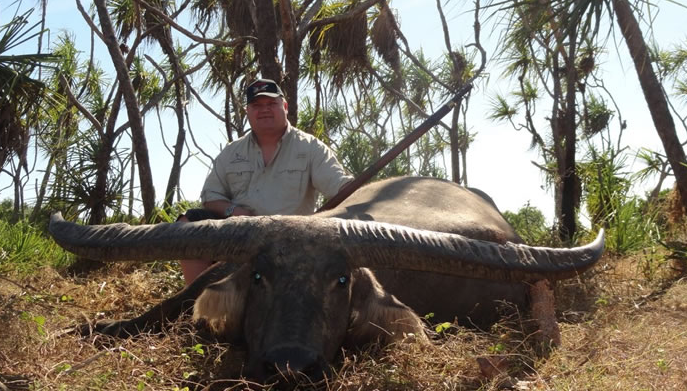 •••SPECIALS for 2017 & 2018•••
•5 day free-range red stag + Javan rusa up to 145" for $6,900.
•5 day estate red stag up to 340" + Javan rusa up to 145" for $8,500.
•5 day  water buffalo + Javan rusa up to 145" for $13,900.
•5 day water buffalo + red stag up to 340" for $13,900.
*Trophy fees and day rates are included in specials! A minimum of 2 hunters for these hunts is required.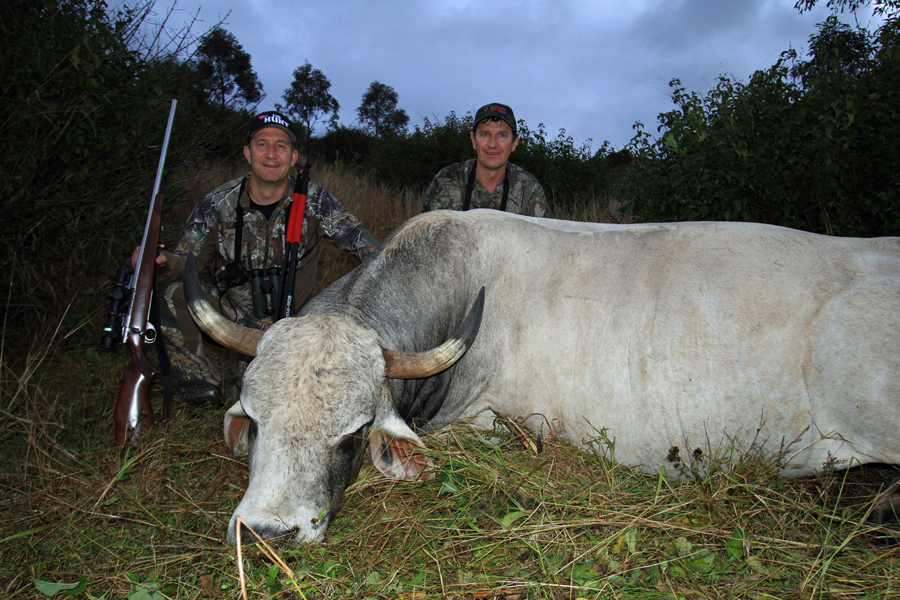 ULTIMATE ADVENTURE HUNT: This hunt operates in pristine wilderness areas of Northern Australia. Pick up & drop off in Cairns, included. This is the gateway to the Great Barrier Reef, something many people make time to see before or after their hunt. Hunting includes unlimited boars, donkeys, dingoes & also one trophy scrub bull. Also included is unlimited barramundi fishing, catch and release. This is 7 days of hunting & fishing, all-inclusive of day rates & trophy fees. Excludes airfares, trophy dip, pack & shipping costs. Ammo at cost if required, as is fishing tackle. There is a two (2) hunter minimum on this hunt.
•Cost of this hunt is $6,600 per hunter.
•3 hunters, $5,900 each.
•4 plus hunters, $5,500 each.
•Note- An extra day of travel may be needed with this package.
•Dates confirmed on this package with a 30% deposit. All terms in U.S.$.
NOTE:
•Accommodations can be upgraded to luxury for the discerning client.
•Fixed wing and helicopter options available for access to most remote camps.
•On our remote hunting areas please allow for an extra night of accommodation before and after the hunt.
•All of our pick up & drop off areas are close to major tourist attractions, Great Barrier Reef, Steve Irwin Zoo, Gold Coast & many more. Many hunters travel with their families, taking in these attractions before and/or after the hunt.
Tag & License Costs
Tags and license are covered. Hunters are responsible for expediting trophies (packing, dipping, shipping home). A visitor permit is now needed to discharge a firearm in Australia, which is secured at no cost, with your passport photo.  If wishing to hire a chopper for transportation to and from hunting grounds, that will be an added expense.
Shipping Your Trophies Home
The costs of preparing, shipping and importing your cape and horns/antlers are your responsibility. The outfitter will help initiate this process, then it's up to you to finalize and coordinate final importation. Recently we're hearing from clients in the U.S. that the costs are around $1,000 (depending on how much you have), which includes the expeditor's costs and certification. The outfitter works closely with Raitt International Freight, in Queensland,       Australia, http://www.raitt.com.au/
Travel Planning
If hunting deer, fly directly into Brisbane, Australia (Toowoomba West Wellcamp Aiport), where you'll be met by the outfitter. If just desiring to hunt water buffalo or banteng, you will fly directly into Darwin, where the outfitter will meet you. If your hunt starts in Queensland for deer, then continues to Darwin for water buffalo and banteng, you and the outfitter will travel, together. Flights home will depend where your last hunt took place, either out of Darwin or Brisbane. Flights from the U.S. usually go direct into Sydney, then on to Toowoomba or Darwin.