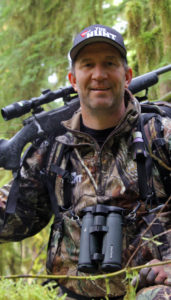 Prior to entering into the outdoor industry full-time, Scott Haugen taught science for 12 years. With a Masters Degree in education, a bachelors in science/biology, and lifelong outdoor experience, Haugen is uniquely qualified to share what he knows and continues to learn. Since hanging up his teacher's hat, he's appeared on more than 350 television shows, penned over 1,600 magazine articles and written more than 15 books, with new titles always in the works.
Haugen also conducts over 50 seminars each year at sportshows, club events, churches, men's groups and more. He also makes numerous guest appearances on radio broadcasts around the country.
Scott Haugen, his wife Tiffany and their two sons, Braxton & Kazden, live at the foot of Oregon's Cascade Range, in western Oregon. While Scott pursues a television and writing career, Tiffany is the creator of numerous, highly popular, cookbooks and is the nation's leading outdoor cooking columnist, contributing to more than 30 magazines a month.
Scott Haugen spends more than 200 days a year in the field, hunting, fishing, scouting and photographing wildlife. He wouldn't have it any other way.