Location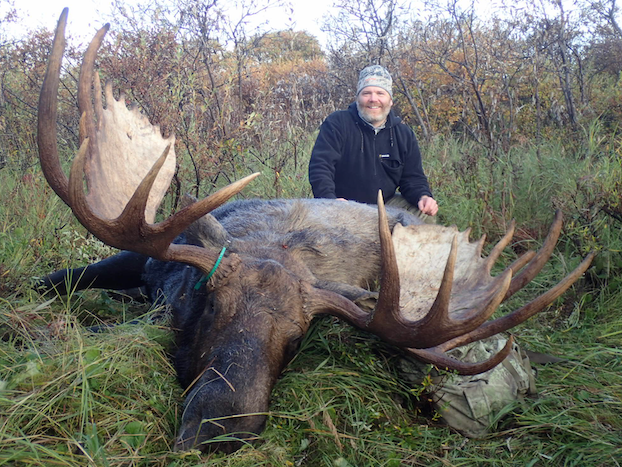 Egegik, Alaska
(South of King Salmon)
Dates for 2018
•3 hunts left for Sept. 10-20, 2018
Species
Moose, Wolf, Wolverine
Cost
$17,500 (not including tag, license and airfare)
Overview
Moose hunting in Alaska is one of the most popular and sought after big game hunts in the world. This hunt takes place amid open tundra, river bottoms and alder thickets, where calling and spot and stalk approaches are the norm. Strategically placed camps are where the hunt starts, continuing along the river, into low-elevation thickets and across open tundra. Most hunts begin on ATV and end on foot.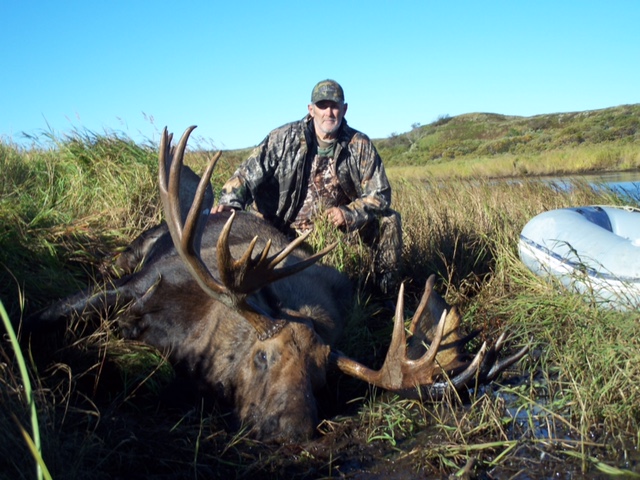 Alaska Moose Hunt
This moose hunt takes place on prime habitat near the native village of Egegik, Alaska. The outfitter has guided for moose here since 2002, and has a very good relationship with the residents and surrounding communities.
Back in the 1980s and '90s the region went through a down cycle. In recent years moose populations have rebounded, and during the 2016 season, the outfitter saw more bulls than ever in his guide area. Many bulls in the 40" to lower 50" range were seen and called in, meaning the next few years could be exceptional.
From 2002-2012, the outfitter saw hunters achieve a 50% success rate. From 2013-2015, that rose to 75%, with 100% opportunity. With a growing moose population, this region should be very good in coming years.
In 2016 this outfitter had five moose hunters, and filled four tags. The fifth tag could have easily been filled with a good bull, but the hunter chose to hold out for a bull they'd been seeing in the 65" class, but were unable to get to.
Because moose populations fluctuate, it's good for hunters to know the most recent reports when considering a place to hunt. The four bulls taken in 2016 by this outfitter had antlers spanning 55", 57", 59" and 62". Two wolves and a wolverine were also taken by moose hunters, at no extra charge other than the tag.
Most hunter take home a cooler or two of moose meat. You can take home more if you'd like, but the outfitter likes to get meat to the villagers in Egegik. The population of Egegik is dwindling, and not many people living there hunt any more. The elders who largely make up this village, truly appreciate and rely on much of the meat provided by this outfitter, so nothing goes to waste. The outfitter has been guiding for moose in Alaska since 1992, and has been operating this camp out of Egegik, on his own, since 2002.
If you've never been on a moose hunt, it's something special, but usually, far from easy. Many people have the misconception that because they're in Alaska, moose will be behind every bush. This is simply not the case, and when you fly over the tundra, you'll see how vast it really is, and how moose can be anywhere.
Weather is always something that has to be considered when moose hunting in Alaska. Temperatures can range from 60º to freezing, with blue skies or torrential downpours greeting yo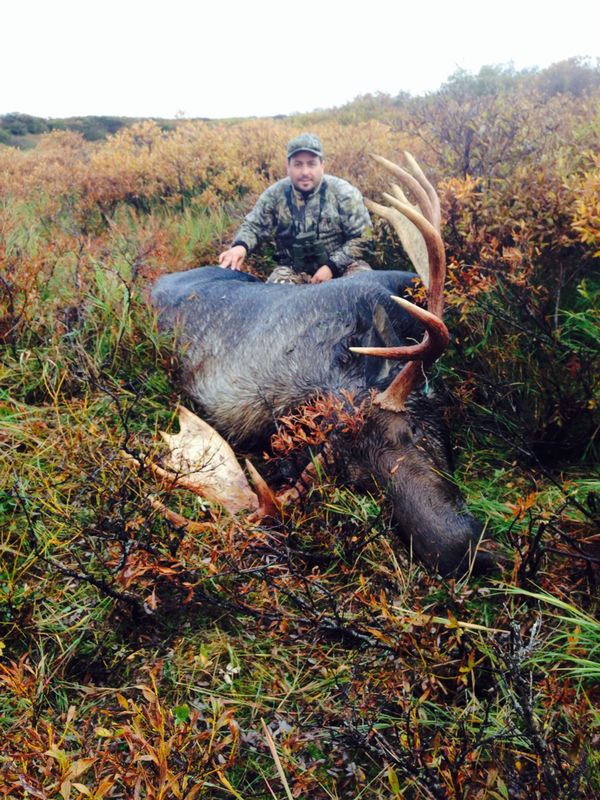 u. High winds, snow and ice can be forces that keep you from leaving camp. In Alaska, bad storms can be serious, and survival and safety take priority over hunting.
When hunting any big game in Alaska, there are never any guarantees. The key to filling a moose tag on this hunt is patience and being physically fit. Expect to glass from elevated positions, moving around when necessary. Gaining a commanding view of the tundra and river valley is your best bet, allowing ground to be covered with your eyes, not your feet. Once a moose is spotted, you and your guide will evaluate its size and try to determine if it can be reached. Due to a high number of lakes and creeks in this region, many of which are tidally influenced, not all moose that are seen can be reached.
While some moose are taken on firm tundra, others are reached thorough hard work. Expect to cross braided streams and potholes in a small raft, trudge through sticky mud flats on low tide, and hike short distance through boggy tundra in order to gain elevation from which to glass. While the terrain looks flat, it can be physically challenging at times.
Hunting in waders is a must. Some hunters like chest-high waders, I prefer waist-high waders. Breathable waders are what you want, not neoprene ones that trap heat and cause you to easily sweat. Make sure the boots are comfortable and that you can walk a few miles without forming blisters. A heavy rain coat and layered clothing, along with waterproof gloves and a hat, are all you need to round out your clothing list. Bring a sleeping bag and pillow.
If you want a coveted 70" moose, this is likely not the place, though anything is possible. What you can expect here is a moose in the mid-50" to lower-60" range, with slightly bigger bulls being possible. While I do book some high-end moose hunts where world-class bulls are taken every year close to or eclipsing the 70" mark, those hunts run over $30,000. For nearly half the price you can expect a great Alaskan moose hunting experience with this outfitter in Egegik, and a good chance of going home with a beautiful representative bull and some great eating meat.
Tag, License & Other Costs
-$160 for nonresident hunting license.
-$800 for nonresident moose tag.
-$60 for nonresident wolf tag.
-$350 for nonresident wolverine tag.
-$400 +/- for bush plane flight in and out of from King Salmon.
Travel Planning
Fly on commercial jet directly to King Salmon, Alaska. From there, hop on a pre-arranged bush plane for a 30 minute flight to camp. You'll be met at the bush plane and all your gear hauled to camp