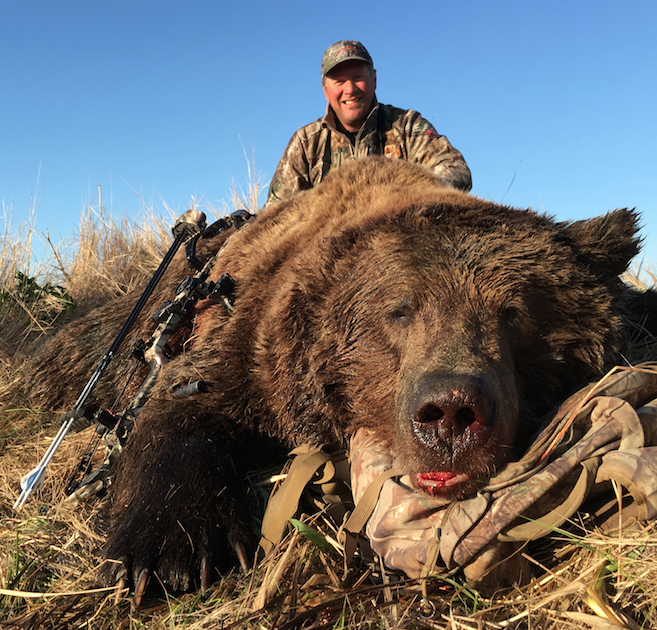 Location
Egegik, Alaska (South of King Salmon)
Dates
•Only 1 spot left in spring 2018, May 10-20
(We saw many big bears in the fall of 2017, so this spring could be great!)
Species
Brown Bear, Wolf, Wolverine
Cost
$18,500 (not including tag, license and airfare)
Overview
The Alaska Peninsula is world-renowned for it's big brown bears. This hunt takes place in the heart of some of the best brown bear hunting in the world. Strategically placed camps are where the hunt starts, continuing along beaches, rivers and over tundra.
Alaska Brown Bear Hunt
This special hunt for brown bear takes place on the prime lands surrounding the native village of Egegik, Alaska. Due to the longtime relationship this outfitter has with the villagers, he has exclusive hunting rights to the land. This means no competition from the locals, other outfitters or do-it-yourself hunters.
All nonresidents are required to hire a guide when hunting brown bear in Alaska. This guide has one of the best records on the Upper Peninsula when it comes to getting hunters on record class brown bears.
At one point this outfitter had the #5 and #11 biggest bears in the Boone & Crocket Record books, along with others in the top 100. Just about every season a hunter gets a 10-foot brown bear, the pinnacle in brown bear hunting.
In the spring of 2016 at this camp a bowhunter who booked his hunt through us tagged one of the biggest brown bears ever taken with bow and arrow. That bear measured 10'4" and qualified in the top 8 of the Pope & Young record books.
In the spring of 2014 I was fortunate to take a monster brown bear with this outfitter. That brown bear aged out at 23 years, squared 10' 9" and carried a 29 4/16" skull with teeth worn to the gums. He was the third largest bear ever taken at this camp.
I also took a nice brown bear in the fall of 2009, from the same camp. It's the only camp that's based in a cabin, all the others are tent camps. The hunting area stretches over 50 miles of coastline, which is the key to success.
In the spring, brown bears migrate some 75 miles from their dens in the nearby mountains, to forage for protein-rich sea food. In the fall, brown bears comb the beach in search of food to put on much needed fat for winter.
Hunts in this game management unit are conducted on a rotation. On odd numbered years (2017, 2019, etc.), brown bear hunts take place in the fall. On even
numbered years (2018, 2020, etc.), brown bear hunts take place in the spring.
The outfitter has been guiding for brown bears in Alaska since 1992, and been operating this camp out of Egegik, on his own, since 2002. The camp has killed 76 brown bears, 15 of which have been over the highly prized 10-foot mark. Their success rate is over 80%, which is truly exceptional for hunts on the Upper Peninsula, or anywhere in Alaska.
Scoring on a big bear is one of the toughest hunts in North America. But I feel, due to the location, this place is among the best of the best, holding its own against Kodiak Island, and at a much lower cost. When hunting any big game in Alaska, there are never guarantees, especially with brown bears.
On my last spring bear hunt with this o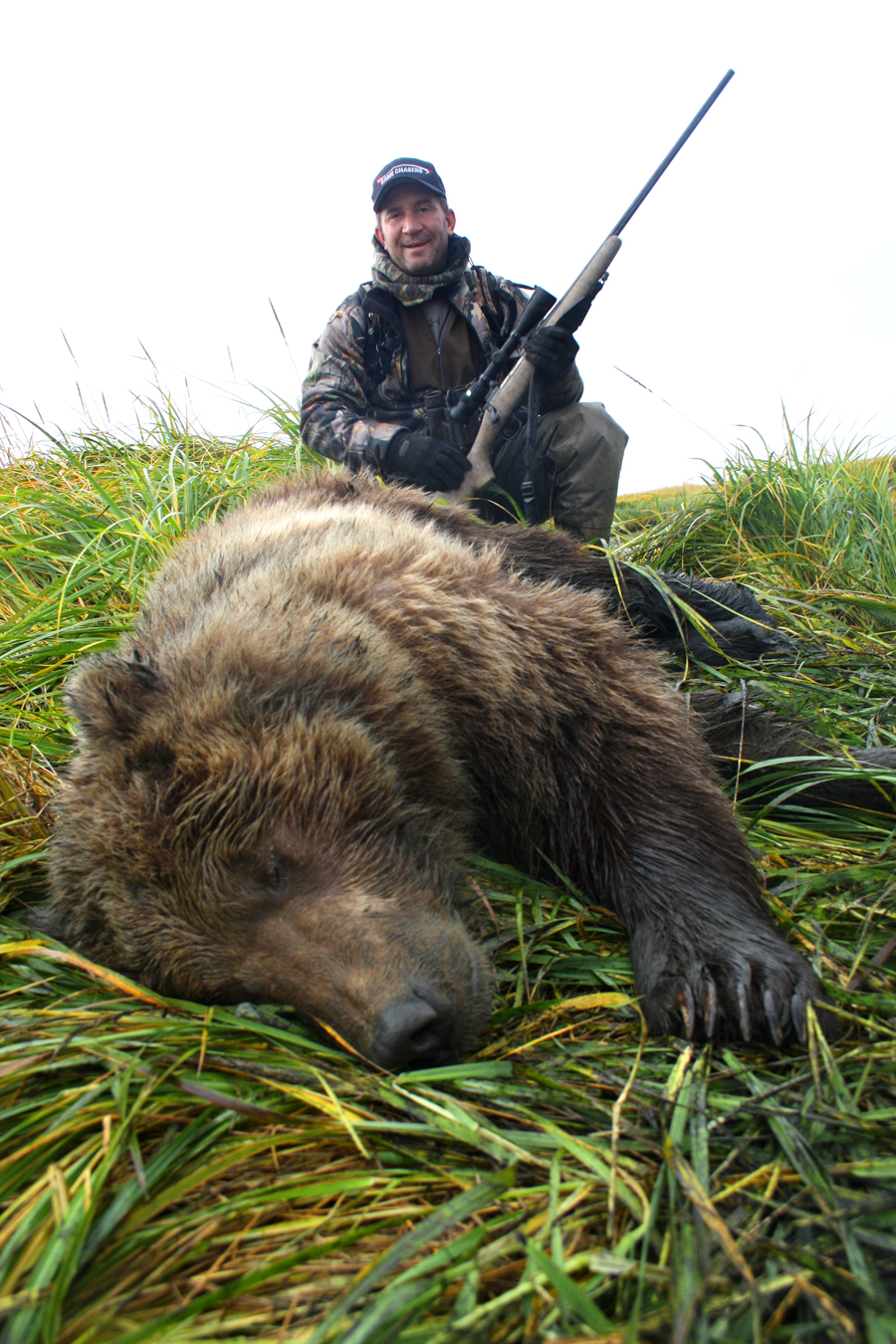 utfitter, I was in camp for seven minutes before we spotted the bear I got later that day, on the first day of my hunt. Another hunter had been in that same camp 10 days prior and didn't see a bear. Sometimes you simply never know.
Due to the terrain and the fact bears are moving in the region, the hunting approach is a sit and wait game. Expect to glass from an elevated position all day long. Gaining a commanding view of the beach and tundra is your best move, as it's best to cover ground with your eyes, not your feet. Once a brown bear is spotted, you and your guide will evaluate its size and try to determine what direction it's moving. Based on this, you and your guide can put together a solid plan to get within shooting range. Due to the wet, muddy, tidally influenced nature of the area, not all brown bears that are seen can be reached.
While some bears are taken on firm, sandy, rocky ground on the beach, others are reached thorough hard work. Expect to cross braided streams in a small raft on high tide, trudge through gummy mud flats on low tide. While the terrain is flat, it can be physically challenging at times, and the sticky, deep mud, demanding.
I've hunted coastal brown bears four times in Alaska, twice with this outfitter. I've taken two brown bears on these four hunts, and both came with this outfitter. Camps are small tent style, save for one which is based in an old cabin that sits on a spit. The two story cabin serves as a great vantage point from which to
glass.
Because you're right on the ocean, the weather can be relentless. Driving rains and high winds can be unforgiving, sometimes grounding you for a day or more. Then again, it could be nice weather every day; it's Alaska and you simply never know.
Hunting in waders is a must. Some hunters like chest-high waders, I prefer waist-high waders. Breathable waders are what you want, not neoprene ones that trap heat and cause you to easily sweat. Make sure the boots are comfortable and that you can walk a few miles without forming blisters. A heavy rain coat and layered clothing, along with waterproof gloves and a hat, are all you need to round out your clothing list. Bring a sleeping bag and pillow.
Your bear will be skinned and the skull prepared and sealed for the journey home. The outfitter is also a taxidermist, and is one of the best we've seen when it comes to mounting brown bears. You can leave your hide with him, and he'll handle the drying, tanning and mounting, if interested.
There is no charge for taking a wolf or wolverine, but tags are to be purchased by the hunter prior to heading afield.
Tag, License & Other Costs
-$160 for nonresident hunting license.
-$1,000 for nonresident brown bear tag.

-$60 for nonresident wolf tag.
-$350 for nonresident wolverine tag.
-$400 +/- for bush plane flight in and out of camp from King Salmon.
Travel Planning
Fly on commercial jet directly to King Salmon, Alaska. From there, hop on a pre-arranged bush plane for a 30 minute flight to camp. You'll be met at the bush plane and all your gear hauled to camp.