Dates
July–October
Species
Cape buffalo, leopard, lion, elephant, rhino, sable, kudu, eland, waterbuck, blue wildebeest, impala, bushbuck, bush pig, warthog, steenbuck and more.
Cost
*See rate sheets
Overview
We've been to many places in Africa, and the beautiful, peaceful setting of this operation is unmatched. A friendly staff, gorgeous scenery, abundant wildlife and the remoteness of it all make this one of the most unique places we've hunted anywhere in the world.
Big Game Hunting In Zimbabwe
Rocky outcroppings spread across a valley rich in flora and fauna set the scene for one of Africa's greatest hunting adventures. The comfortable, well manicured camp perched atop a massive rock formation offers a commanding view of the land and wildlife, allowing you to soak in the full experience. This outfitter, Jonathan Collett of Touch Africa Safaris, operates in multiple concessions for the Big Five, prized plains game and more.
Cape buffalo hunts run 100% due to the select number of hunters this PH has taken over the years. Thanks to selective hunting, the quality of bul
ls taken are very large, with sweeping horns and thick, well developed bosses.
Leopard are also available. On our last safari here, we took a record-book leopard and saw three other cats roaming the country in daylight. Leopards are reported to be overpopulated on this massive tract of land and there are some monster toms taken from the region.
Eland, greater kudu and waterbuck thrive in this diverse habitat, and big bulls are regularly taken. On one safari, we called in a blue wildebeest, which was a thrill. Impala, bushbuck, klipspringer, warthog, bush pig and more, abound, leaving no shortage of exciting hunts to be had.
This PH doesn't just drive you around all day, searching for game. The better shape you're in, the more game you'll encounter, as hiking and glassing from rocky high points is the norm, and highly advantageous when it comes to finding game amid the brushy valley floor. When conditions are right you can also track game, in classic safari fashion. We once cut the tracks of a big eland bull at daylight, followed it until mid day, and caught up with it; it was one of the best hunts we've had anywhere in the world and the PH and trackers worked extre
mely well together.
The PH has spent his life in this area and knows it well. The trackers are as good as we've seen on any continent.
Every meal is delicious, and the ambience offered by the commanding view of the lodge, dining and fancy camp, are unmatched. If a non-hunter is looking for a remote getaway, this is it.
On one of our safaris to this magical place, the whole family went, including two sons under the age of 10; everyone still talks about that trip.
Once in a great while when traveling the world, you come to a place that captures your attention like no other; that magical destination where all just feels right, and you know, when it comes time to leave, there will be a lump in your throat and a pit in your stomach. This is one such place, which is why we've returned, and will do so again one day.
Here are some traveling tips on getting to Zimbabwe:

How easy is it to get your hunting rifle into Zimbabwe?

Here's what to expect on a typical day's safari when hunting with this PH:

There are multiple venues on this safari, with lots of options to fit your needs:

How to deal with bugs in this part of Zimbabwe:

Exporting your trophies home from Africa is easy:

Details & Pricing On Hunting The Sondelani Concession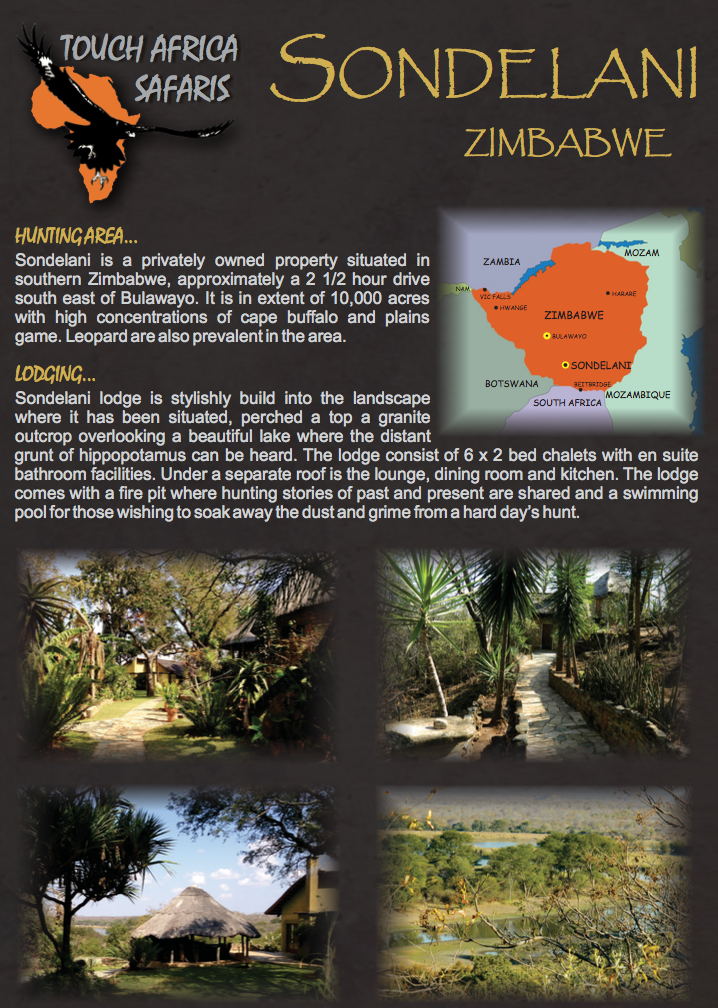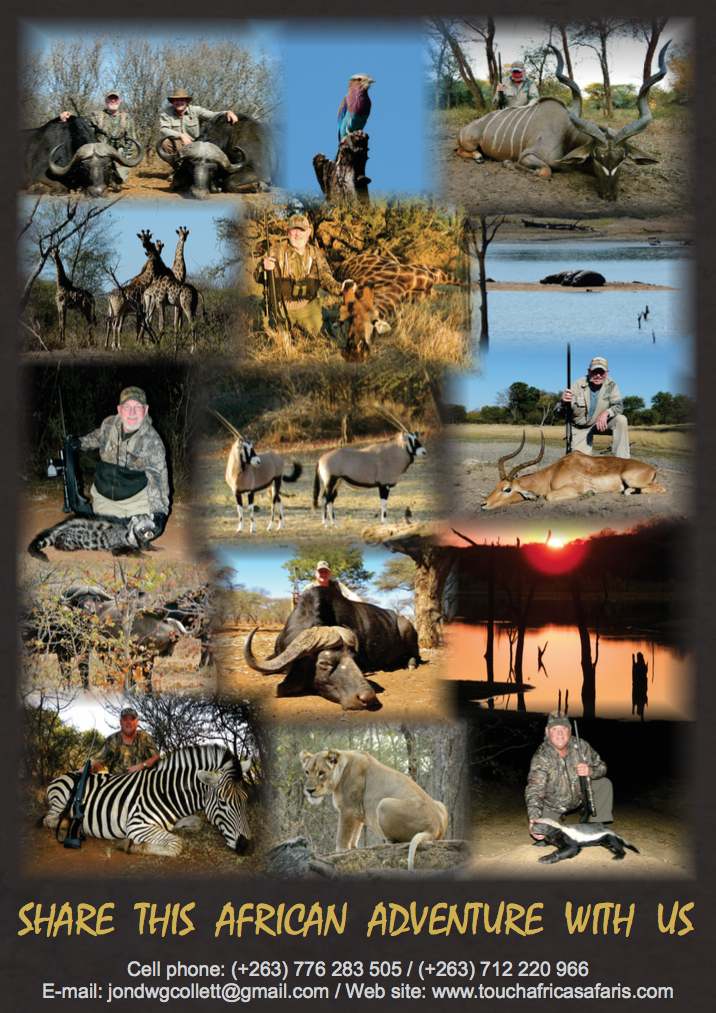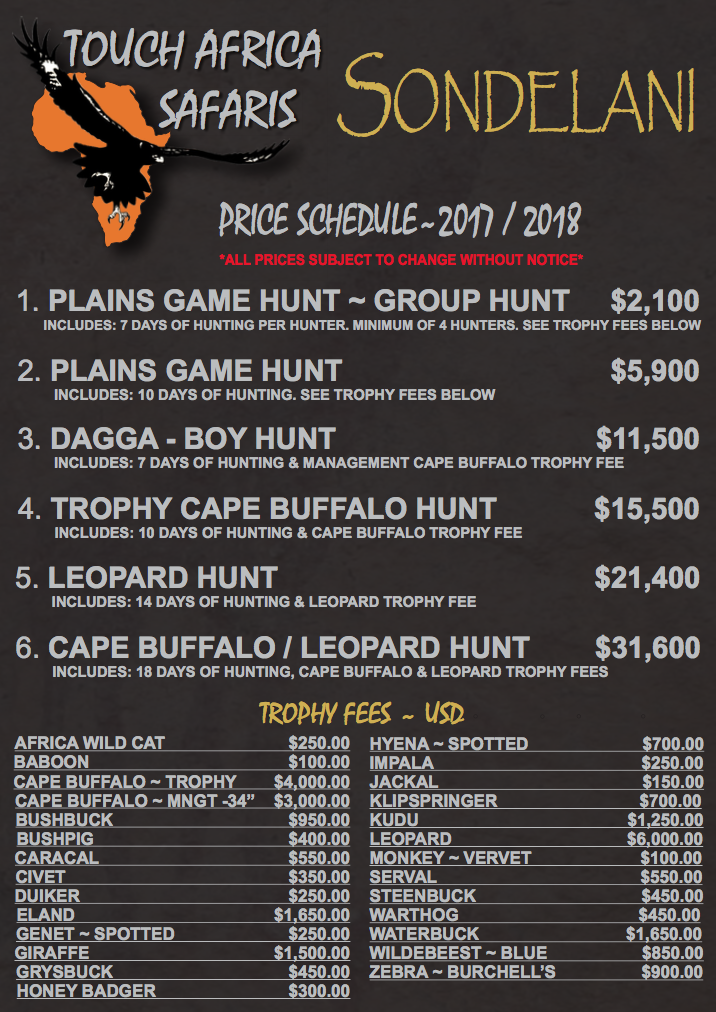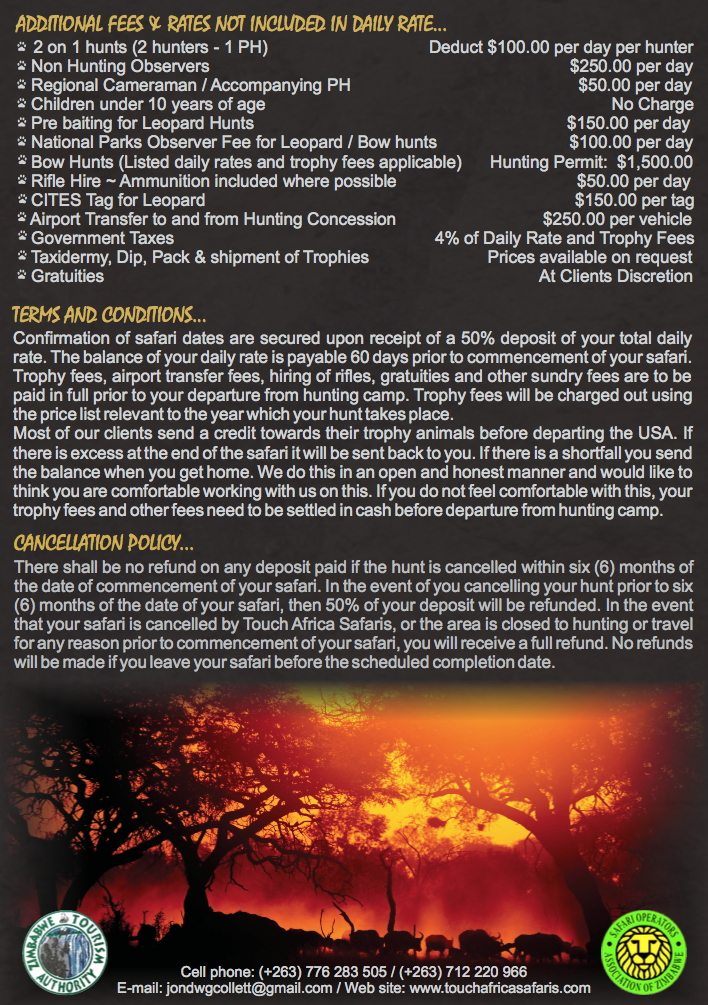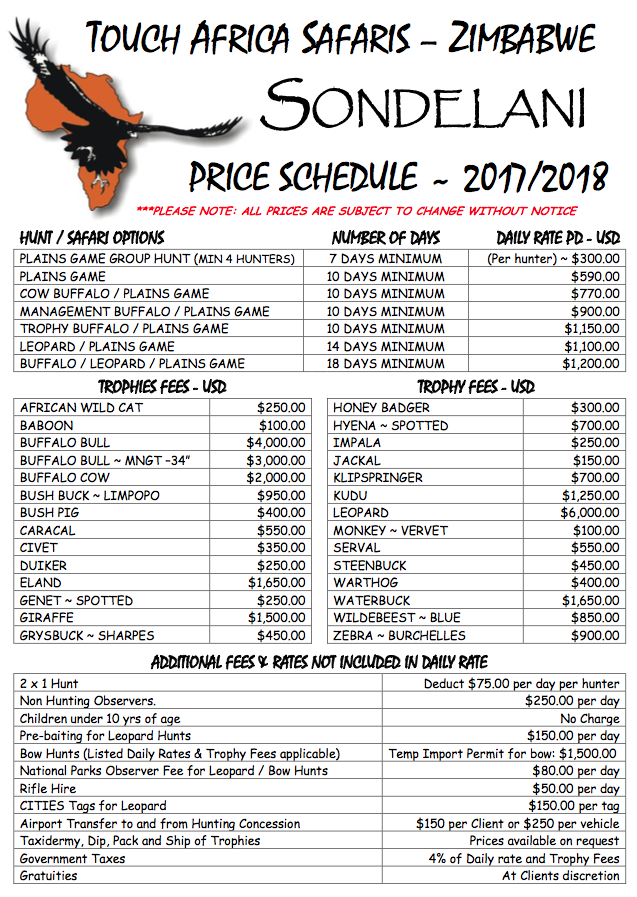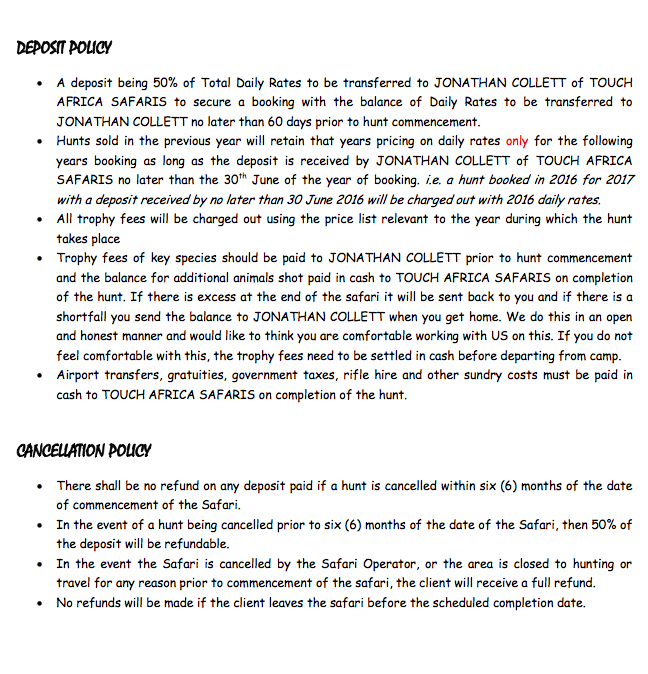 Details & Pricing On Hunting The Bubye Valley Conservancy (BVC)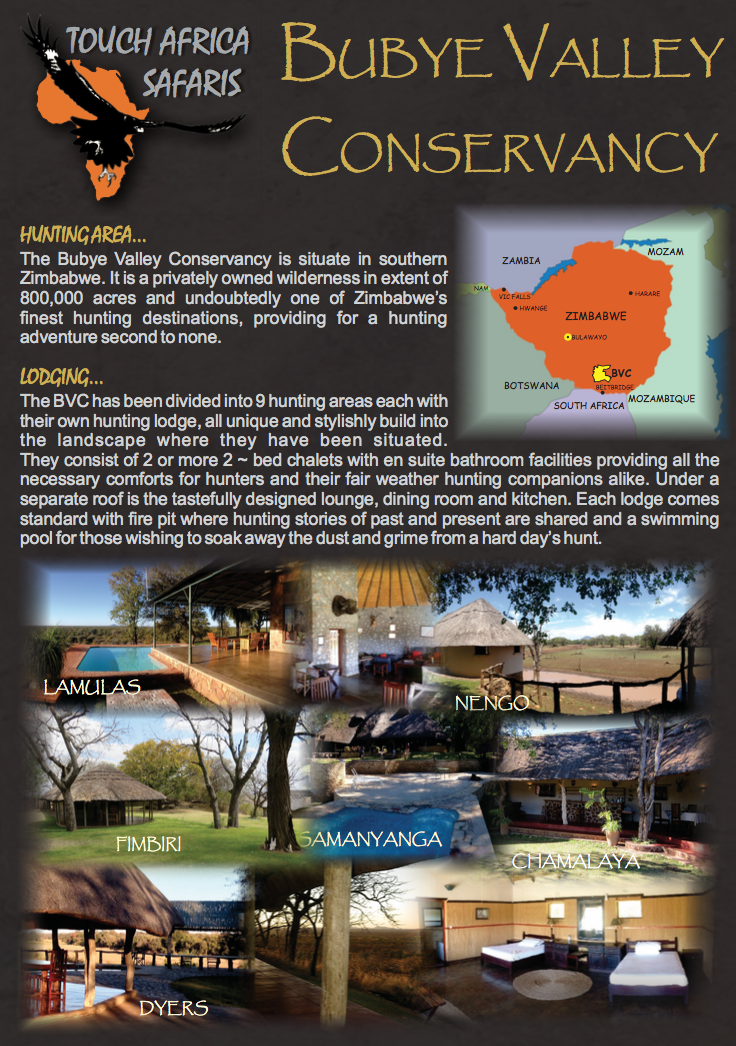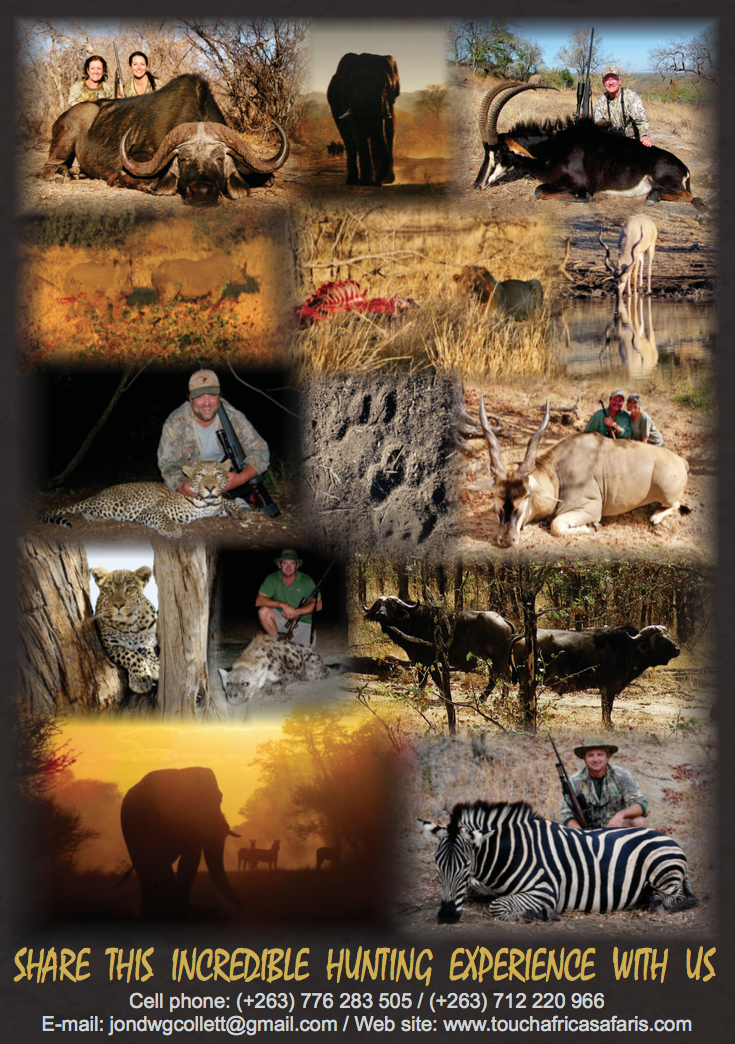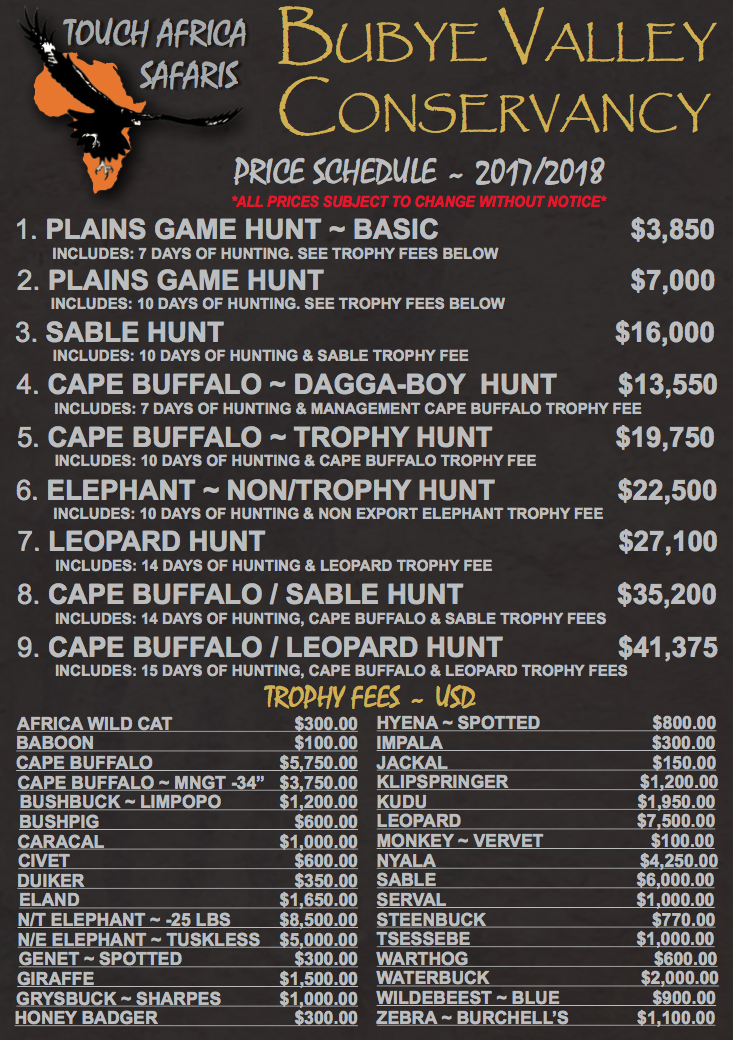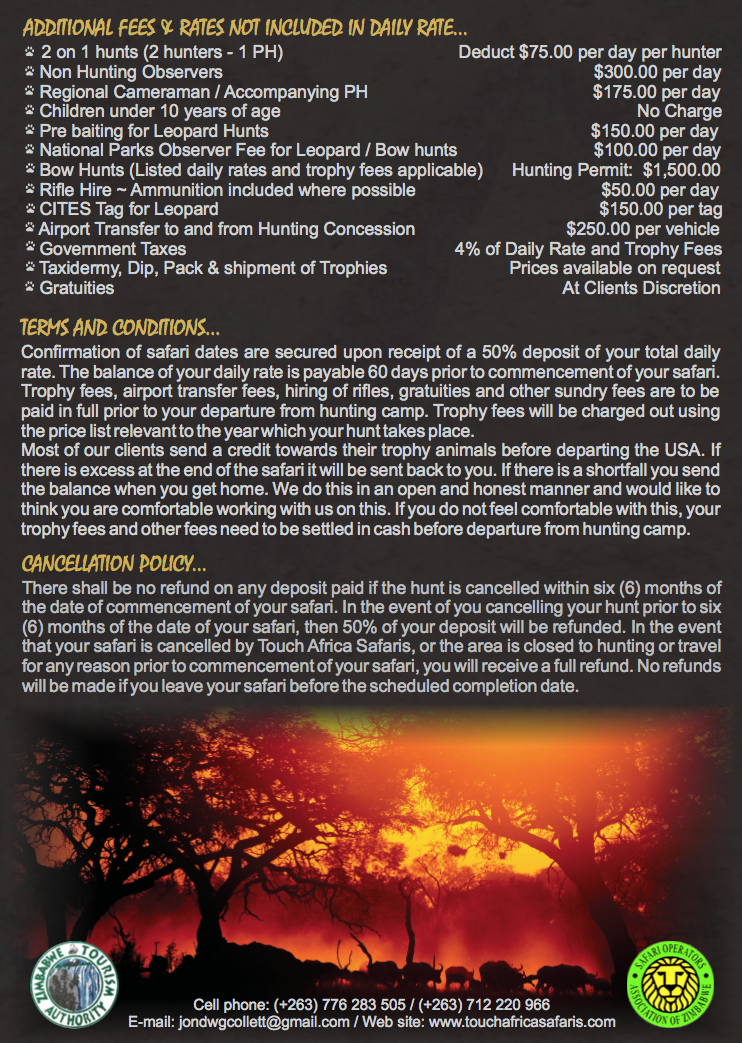 Travel
Hunters fly into Bulawayo, where they are picked up and driven to camp. As with any foreign travel, be patient, smile and all will be fine, and your PH or staff member will be there to greet you the moment you clear customs. They'll also deliver you to the airport for your return home.
Details On The PH  & The Safari Operation