Location: Kotzebue, Alaska
Dates
Fishing begins the third weekend in March and goes for five weekends.
Arrive on a Thursday, fish Friday-Sunday, return home Monday.
Species
Sheefish, Pike, Burbot
Cost
1-2 people, $2,500 per person.
3-4 people, $2250 per person.
5-6 people, $2000 per person.
*There will be a maximum of 6 people.
Overview
Ice fishing in Arctic Alaska is one of the most unique adventures an angler could experience. Not only will you be fishing one of the world's most desired, tenacious fish, you'll be doing it above the Arctic Circle, amid lands occupied the by Inupiat Eskimos for thousands of years.
Sheefishing Through The Ices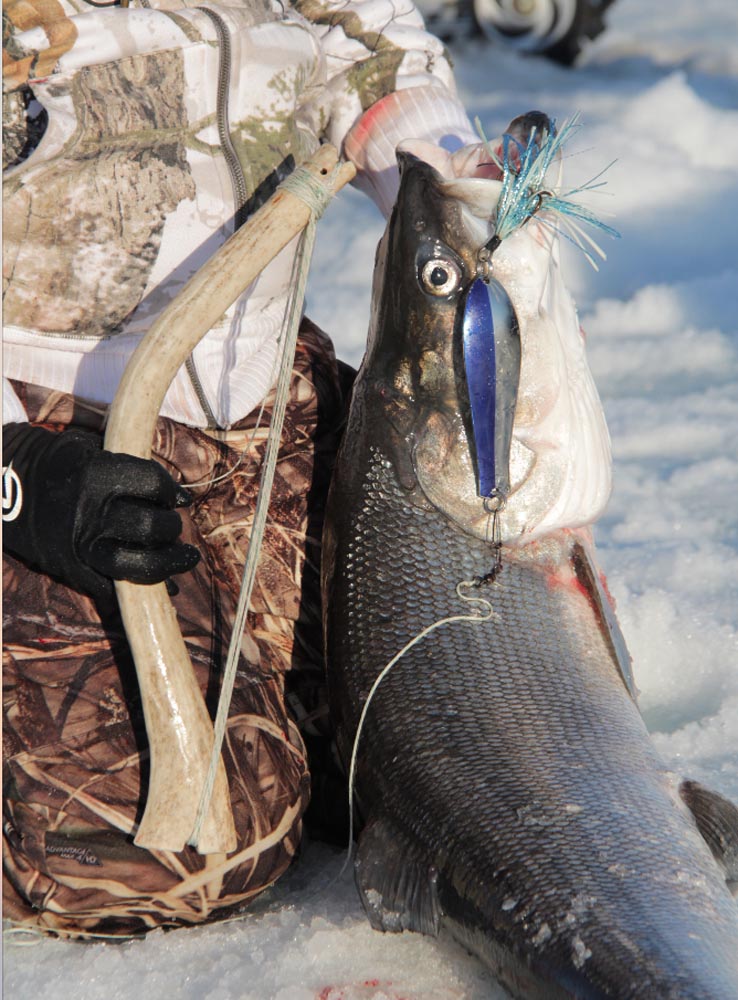 This is more than a fishing trip, it's a cultural adventure you'll never forget. Upon your Thursday arrival, take the afternoon to explore the sights around Kotzebue. There's a fabulous museum, stores with Native crafts to check out, and much more.
Starting the third weekend of March and lasting for five weekends, Friday, Saturday and Sunday will find you on the ice, fishing all day. On Monday you'll return home. There are two Alaska Airlines flights in and out of Kotzebue every day.
Ride on or drive snowmachines to where the sheefish are. The sheefish may be less than a mile from town, or could be 20 miles or more up the sound.
The outfitters have been fishing this area on their own for years, and will keep moving to proven hot-spots until they find fish. On our last trip here, we found the fish on the final day, and landed over 50 in less than two hours.
Imagine drilling a 10-inch wide hole through five-feet of ice, jigging a Niksik (Native fishing pole crafted from whale rib, caribou antler or wood) and latching into sheefish 30 pounds or bigger.
The sheefish is nicknamed "tarpon of the north" because when caught in rivers in the summer, they make long runs and jump multiple times. Imagine battling this same fish through the ice!
Fish will range from 10-40 pounds, even bigger. There is a 10 sheefish per day limit, but when a big school is located, expect lots of catch and release action.
Sheefish is some of the best eating fish in the world. Your outfitters will clean, freeze and box your fish for the journey home. Anglers who book early in the season have the option of going after pike and burbot, if the conditions are favorable.
Each party will have two full-time guides who have been collectively fishing the area for nearly 30 years. They will supply specialized ice fishing poles, lures, quality augers for quickly drilling many holes, fishing shacks, chairs, heaters and other gear made for ice fishing in the Arctic.
Each angler is responsible for bringing their own cold weather clothing. Temperatures can range from below zero to 40º or more. Hand warmers, foot warmers, stalking caps, warm gloves and heavily insulated boots for standing on the ice all day, along with heavy pants and jacket are suggested.
This specialized adventure is perfect for the family, corporate getaways or solo anglers. The outfitters will go out of their way to make this a most memorable Arctic adventure you'll never forget.
License Costs
Cost is covered in this package.
Travel Planning
Anglers fly directly into Kotzebue on Alaska Airlines, out of Anchorage. You'll be met by the outfitters, given your fishing license and taken to a bed & breakfast or hotel to unpack. Two daily commercial flights in and out of Kotzebue help keep the costs of this trip within easy reach. The cost of getting fish home is the responsibility of the angler.
The cream contains aciclovir that works to stop treat the virus. One of the most well known is Kamagra. What consumers talk about real viagra for sale or generic viagra for sale? It's active ingredient is Sildenafil. The definition of sexual disfunction the persistent impossibility to achieve an erection to the orgasm, exerts an estimated more then twenty millions men in the America alone. Anyone with sexual disorders need professional help. Certain treatments will include couples therapy. Several remedies may add to sex drive difficulties, so its vital to ineract with your physician so that the prescription can be tailored to your needs. Keep reading for a list of medications that may cause heartiness problems and what you can do to put an end to potential side effects.