I just came off a great Aleutian goose hunt near Eureka, California. You goose hunters who are looking for an awesome, end of season hunt, this is it. The season runs through March 10 I believe.
It's a special, late season, damage control hunt that takes place on100% private property (by law). Tens of thousands of Aleutian geese stage on priv
ate grounds and graze on valued pasture land, prior to their upcoming journey to Alaska. The geese pull the grass up by the roots, causing large-scale damage. Landowners and cattle ranchers want them gone, and with a 10 goose per day limit, a day or two of great hunting can be experienced.
Aleutian Canadian geese are one of waterfowling's greatest conservation success stories. Once on the brink of extinction, they can now be hunted during multiple seasons in this part of California, which is the most efficient way to keep their numbers in-check and move them off large tracts of land.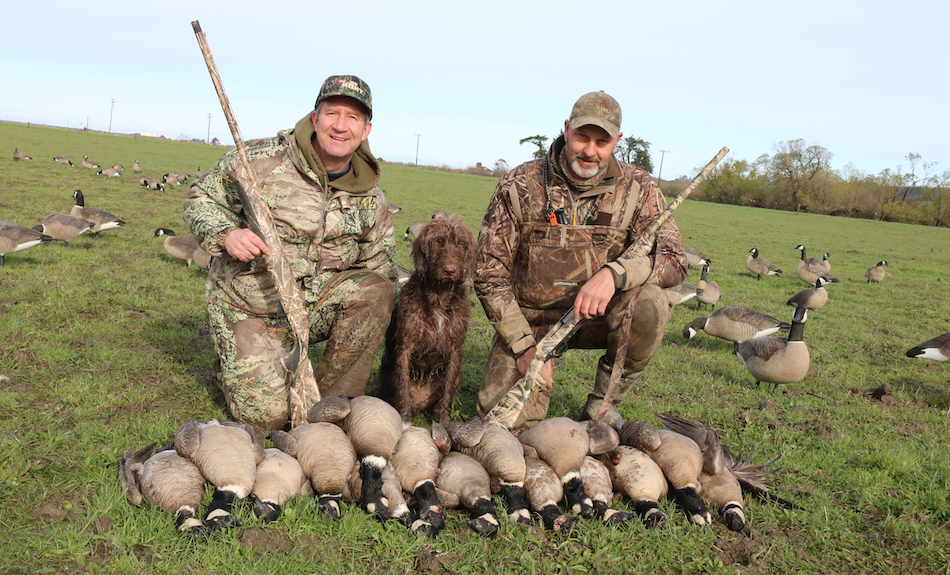 I hunted with guides Brad Smith and John Corbett of Pacific Outfitters, longtime goose hunting gurus in the region. They have several dozen decoys and access to some the best farms. They monitor bird movement, daily, and work hard. Hunting is done from layout blinds. At times we had flocks of over 100 birds dropping into our spread, and routinely saw 5,000 birds in the air. A couple fields held over 10,000 birds, each.
The cost is only $350 per person, with a late-season discount possibly being an option for two or more hunters. If interested in this hunt, contact them direct at 844-926-6566 or drop them an email book online at www.PacificOutfitters.com. Time is running out, and if you're a collector of waterfowl, or just want to experience some great hunting and taste what many folks claim to be the best goose out there, then give them a shout!
Size 2 shot is all you need, as these birds decoy in tight. My favorite small goose load this season has been Browning's BXD Waterfowl in a 3″ load. These, fired from my Weatherby Element, have been a great combination.
Good hunting!